Create a Worker's Paradise in Your Garden
How do you fancy swapping the daily chaos of the 7.15 to London Bridge for a 15-second commute to the bottom of your garden? Tempting, isn't it? Not surprisingly, we're getting more and more requests for garden offices.
For people who work from home, the idea of never leaving the house can be demotivating. A garden office provides that psychological distance between work and home, without turning the journey into a daily nightmare. And if you're looking to create more living space without going into the loft, extending or moving house, a timber-framed outbuilding can provide an attractive and practical solution.
Choose your use case
Garden buildings can have a range of uses: summerhouse, pool house, play room, man cave, granny annex… Before you go ahead with any building plans, it's important to decide exactly what you intend to use the building for, as this will determine its size and height, which in turn will have an impact on whether or not you require planning permission.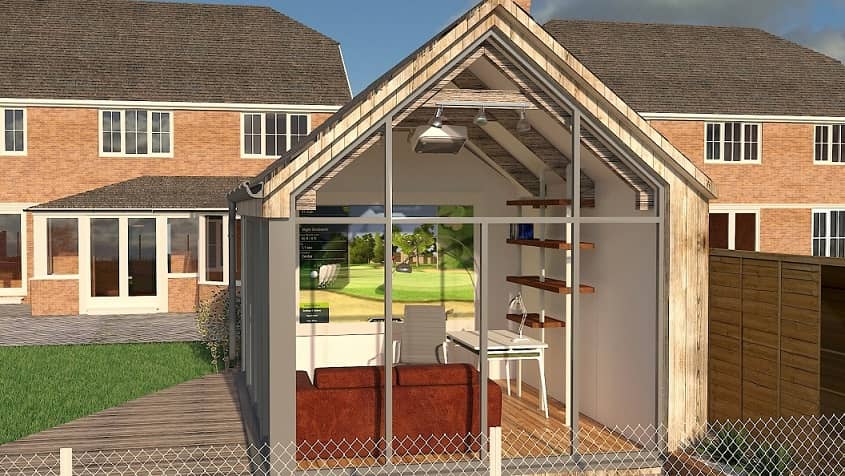 If you want a place you can use all year round, eg a garden office, then you're talking about more than a summerhouse. You will need proper insulation and here you have two options: build the timber frame and then insulate it on site, or, for a much quicker construction, use structured insulated panels (SIPs). SIPs are pre-prepared off-site and then put together on-site, taking roughly half the time of the frame and insulation option.
You need to allow time in your building schedule for the SIPs to be prepared in advance, of course, but if you have a need to keep the actual on-site construction time to a minimum, they are the best solution.
Permitted development or planning permission
Most garden buildings can be built as permitted development, provided they fall within certain criteria concerning size and position. If the building is to be within 2m then the maximum height at the eaves for permitted development is 2.5m, with the tallest part of the building less than 4m high. Anything taller than that, or with a footprint greater than 30sq.m, will require planning permission.
This is another reason why deciding on your proposed usage is important. It can affect the height of the building, as in the case of this building we designed for a client who wanted an office with a golf simulator screen on the wall. For him to be able to swing a club, the building needed to be higher than it would had it been just an office.
If you're planning to put living accommodation into your garden building, eg a bedroom and kitchen, you will be considered a developer and will be subject to another planning process. At Greenway Associates we take care of all the planning requirements on behalf of clients and make sure that whatever they choose to build is fully compliant with the relevant regulations.
A range of designs
The look of your garden building is entirely down to your taste. You can have it modern or classic, painted or bare wood, to blend with your house or stand out as a statement. Large expanses of glass look good and let the natural light flight in. You might want privacy, though, in which case a lantern skylight might be a preferable option.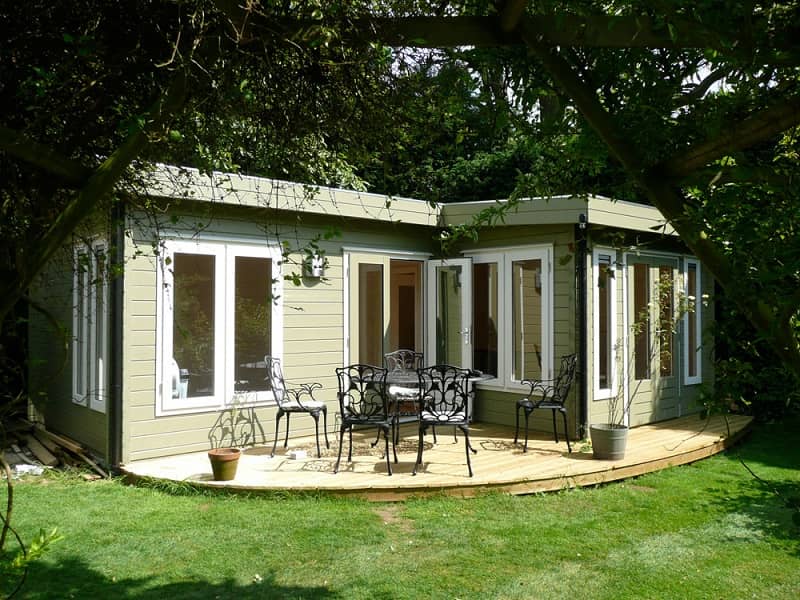 The insulation regulations apply to the floor, ceiling, walls and glass, ensuring that you can keep the place toasty in the winter without having to have heaters devouring your electricity. Think about the facilities you're going to need. Electricity certainly. Broadband. Water and plumbing perhaps. And consider security too. If you're keeping expensive office equipment in there, you want something a bit more secure than a garden shed. We can advise you on security options.
How long does it take?
While a garden office is classified as a temporary structure, don't underestimate the work involved in building it. From the moment we shake hands to the moment the diggers break ground, there is about six months of work to do, preparing plans and sorting out building regs etc. Once work on-site begins you should expect 12 weeks for building the structure and insulating in site and about six weeks if using SIPs. Remember the preparation time for SIPs needs to be taken into account though.
Once built, though, a garden building can be a major asset, adding ease and comfort to your daily working life and adding value to your home.
 Want to swap your commute for a stroll down the garden? Call Greenway Associates today on 01737 652737
RECENT PROJECTS
At Greenway Associates, we have completed over 2,000 architectural design projects
BINFIELD ROAD
admin
2022-05-30T07:39:03+00:00