8 effective ideas to add a luxury touch to your home
When it comes to making a house feel like your home, interiors certainly play a big part. There are so many options out there to choose from, so it can be hard to know where to start. But, the sheer amount of choices out there also makes it easier to find pieces that compliment your personality and tastes, in order to craft a home that feels truly personal. Having said this, one thing that can really elevate your interior style is by adding some luxurious touches. From your paint and wallpaper choices, to what you do with your outside space, there are plenty of things that you can do to make your home feel like the lap of luxury. However, many people believe that adding these touches is an expensive habit to pick up! This doesn't have to be the case, though. Whether you're on a tight budget, or just don't want to spend more than what's necessary, crafting a home with a luxurious feel doesn't have to cost the earth.
In this post, we've put together 8 effective ideas to add a luxury touch to your home. They are all fairly straightforward to implement but will give your home a premium atmosphere, no matter what sort of space you're working with. So, whether you're looking to transform your space completely, or just add a few finishing touches, these ideas should give you all the inspiration you need to create a home that both looks and feels amazing to live in!
What are our 8 effective ideas to add a luxury touch to your home?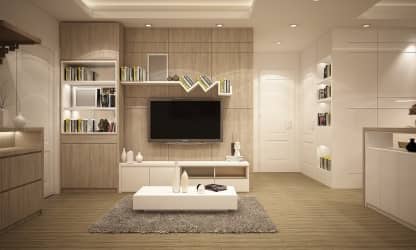 Have you thought about how you could incorporate some stunning jewel tones into your interior design? Rich hues such as emerald green, sapphire blue, and ruby red create an eye-catching look in any home. You can use them as a feature wall to add real interest and depth to a space, whether that's a solid colour or a beautifully patterned wallpaper. Or, if you're working with a smaller space or don't want walls that are too dark, you can incorporate them in slightly more subtle ways! Velvet sofas and armchairs are still a popular interiors trend, and they come in a range of vibrant jewel colours. Alternatively, you could simply add a cushion in your favourite jewel tone to get a similar luxurious look with less of a commitment.
Think about the fabrics that you're selecting
When creating a luxury look, it's important to pay careful attention to all the little details. This includes the fabrics that you're choosing for your soft furnishings. Everything from curtains and blinds to sofa covers, cushions, and even rugs come in a huge range of fabrics these days, so you're spoiled for choice. But, one of the most effective ideas to add a luxury touch to your home is to carefully choose those fabrics that add an opulent feel. Some of the best textures and fabrics for this include silks, velvets, and wool. However, these fabrics can be costly! So, if you are working with a budget, look out for synthetic fibres that look like the real deal. Not all synthetic fibres are created equal, though, so ensure that you're choosing those that are high-quality for a similar luxurious look.
Lighting can make a fabulous centrepiece
Want to add a real talking point to your home, but not keen on feature walls or large artwork pieces? Why not add in a statement lighting fixture to achieve an eye-catching look with a difference? When it comes to effective ideas to add a luxury touch to your home, this is a perfect option. There are lots of styles to choose from, but we think the most luxurious looks to go for are chandeliers. You could choose a traditional chandelier, which works best in period properties or for those with a more classic interior design style. Or, you could go with a chandelier that has a modern twist if that's more your style. These lighting fixtures work perfectly in a dining room to elevate the look and surely get any dinner party guests talking!
Metallics add texture and a splash of extravagance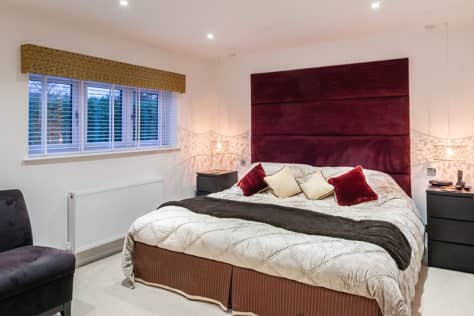 Want to get a similar effect to using jewel tones, but it's not really your thing? A good alternative to this is using metallic shades. Splashes of gold, copper, silver, and rose gold are all effective ways to add a luxury touch to your home. They work best when they're subtle accents, for example, a wallpaper with metallic hints, decor items, or as a part of a small piece of furniture such as a coffee table. Using metallic shades instantly makes your interiors look modern, but it can be a relatively inexpensive way to give a luxury feel. We also think that metallic look amazing combined with jewel tones, so why not try and incorporate both into your interiors look?
Panelling is a luxurious trend that's hopefully here to stay
As an interiors trend, panelling has taken off in a big way recently. And, it's for a good reason, as it can look really luxurious, and is a perfect alternative to a feature wall. If you do live in a period home, you may be lucky enough to have original panelling that you can make the most of. But if not, there are plenty of companies out there that will be able to reproduce it for you. You could even have a go at the DIY panelling trend that has taken the internet by storm. Here, people attach thin strips of wood to their walls in a grid pattern and paint over the whole thing in a colour of their choice to create a panelled wood effect. Overall, there are so many different designs that you can choose from when it comes to panelling, from the simple to the intricate, and it's a good way to add a hint of traditional luxury to any room in your home.
Think about your outside space
When crafting your perfect luxury home, it's important to remember your outside spaces as well. You'll probably be spending a lot of time in them, especially during the warmer months, so why not carry on the opulent themes and bring them outdoors? There are many ideas out there to make your garden feel classy, no matter if you prefer a modern or traditional look. One of the best ways to do this is by choosing high-quality outdoor furniture that will stand the test of time and look good for years to come. Another popular option is to add in water features. There are lots out there to suit all budgets, and if you choose wisely, it's one of the most effective ideas to add a luxury touch to your home and garden. Plus, the gentle bubbling of running water is a relaxing sound that will make your garden the perfect place to unwind in!
Choose a simple colour scheme
Some of the most luxurious interior looks out there are actually surprisingly simple. They tend to choose a neutral colour scheme (either dark or light), and run with this to create some simple yet stunning looks. This style of interior design also feels clutter-free and serene, so it's perfect if that's the sort of atmosphere you are looking to create in your home! If you want to go for a neutral colour scheme, don't shy away from using black as a part of it. Many people are afraid of using such a dark colour, but when done right it can be one of the most effective ideas to add a luxury touch to your home. If you have a larger space, why not use it on your walls? Or, it also works well for smaller accessories and soft furnishings to add a finishing touch.
Clashing textures create a striking look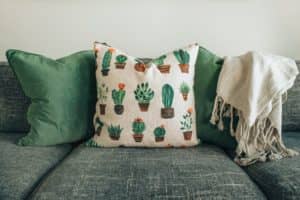 Finally, when you see a home with luxury-style interiors, you may notice that all of them seem to have one thing in common, and that's clashing textures used throughout. When done right, this creates an interesting look that feels carefully curated and well-designed- which is what luxury is all about! It's simple to incorporate this look into your own home through the soft furnishings that you choose. It could be as easy as a couple of cushions, in complementing colours but clashing textures! Ruffled, woollen, satin or silk, and velvet textures are just a few ideas that you might enjoy. Have a look around in the shops and see what catches your eye, and see how you might be able to combine textures for a unique and luxurious look.
A conclusion to our effective ideas to add a luxury touch to your home
Creating a home that looks and feels luxurious should be a fun and satisfying process that results in a home that is a perfect reflection of you and your family. As you can see from this article, there are so many different ways to do it, and you can easily tailor these ideas to your individual budget and the space that you have available. Crafting your perfect home does take time, especially if you are starting from scratch. But, the effort will truly be worth it once you have a home with amazing interiors and outdoor space!
RECENT PROJECTS
At Greenway Associates, we have completed over 2,000 architectural design projects
BINFIELD ROAD
admin
2022-05-30T07:39:03+00:00