Contemporary Bay Window
Ideas For Your Modern Home
Certain design trends come and go but the contemporary bay window is one that has never wavered. When they were first introduced in the late 15th century, they were purely ornamental. However, architects gradually began to realise that there was so much more potential hidden within them. If you decide to opt for one in your home, you'll be sure to benefit from natural views as well as more light and ventilation during the summer months.
A bay window projects outwards from the main walls of your home to create extra space and a timeless appearance. Not only do they appeal aesthetically, but they can help increase the value of a property should you want to sell in the future. There are limitless possibilities for how you can use and dress the space. So you can match it to your style and maximise the space however you like.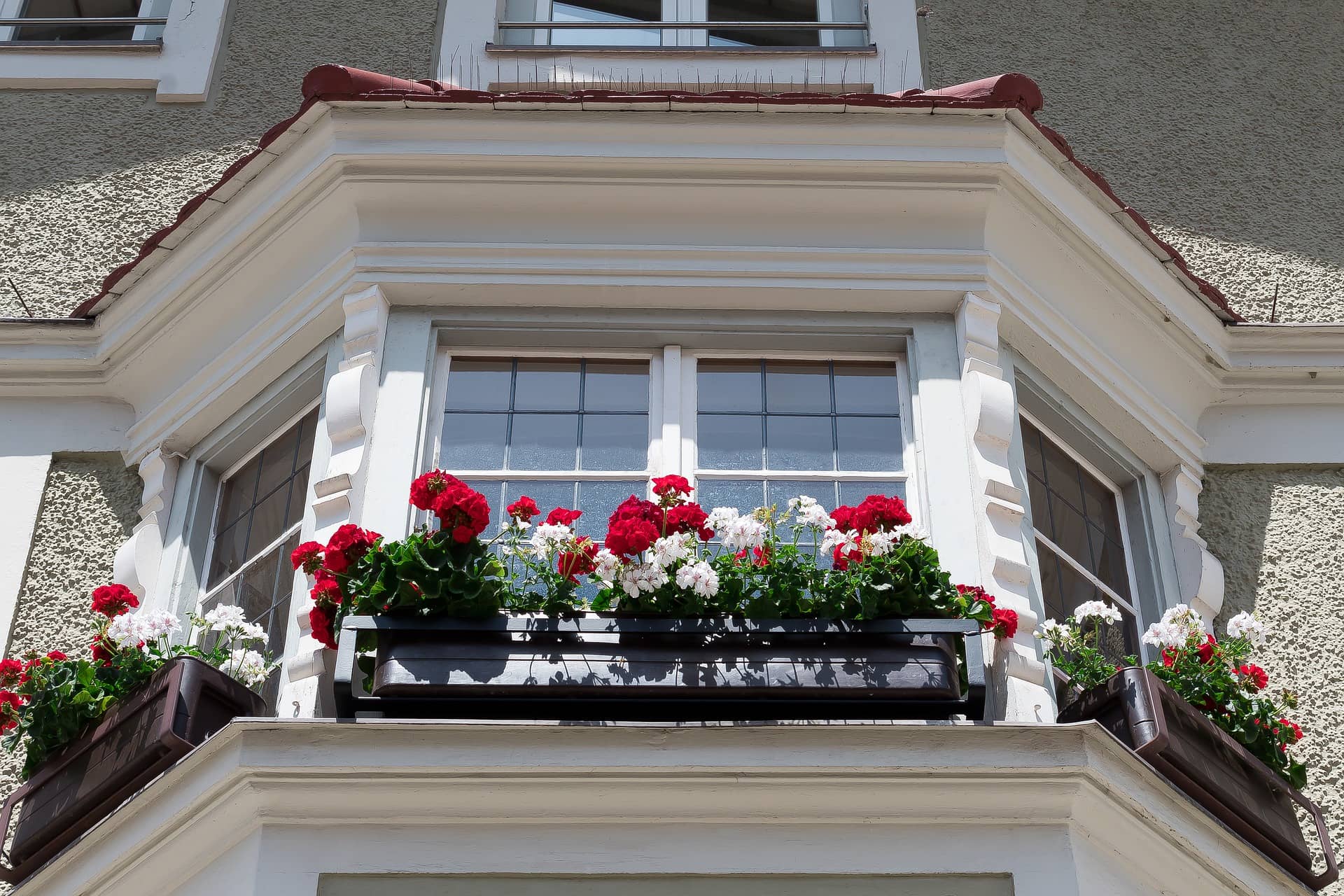 Types of contemporary bay window
Being around for so many hundreds of years, you'd think the design would have changed significantly. In reality, they haven't been altered much at all. The main differences you'll notice are the small architectural details, angles and decorative elements. These are things that could make a big impact though if matched to the rest of your home. 
There are a few types you can choose from:
1# Canted Bay Windows
This design has the classic shape you probably know and love in a bay window. Created after regulations changed – they took advantage of windows no longer needing to be flush with the exterior walls. They have a flat front with angled sides and are only found on the ground level of buildings. You'll usually see them with 3 or four windows. 
2# Box Bay Windows
Structurally, these are the same as the canted design above. However, the difference between the two is the angle of the flanking windows. Instead of having slanted sides, these are at a 90-degree angle with the exterior wall, creating the box shape. It is a flexible option as they can be placed anywhere in the home.
3# Oriel Windows
These are the oldest design, first made popular by their usage on English Renaissance mansions. Lending a more gothic style, they can be found on any storey of a property and are not connected to the ground. Since they can be installed on higher levels – they're fantastic for opening up a dingy hallway or dark room that often gets overlooked.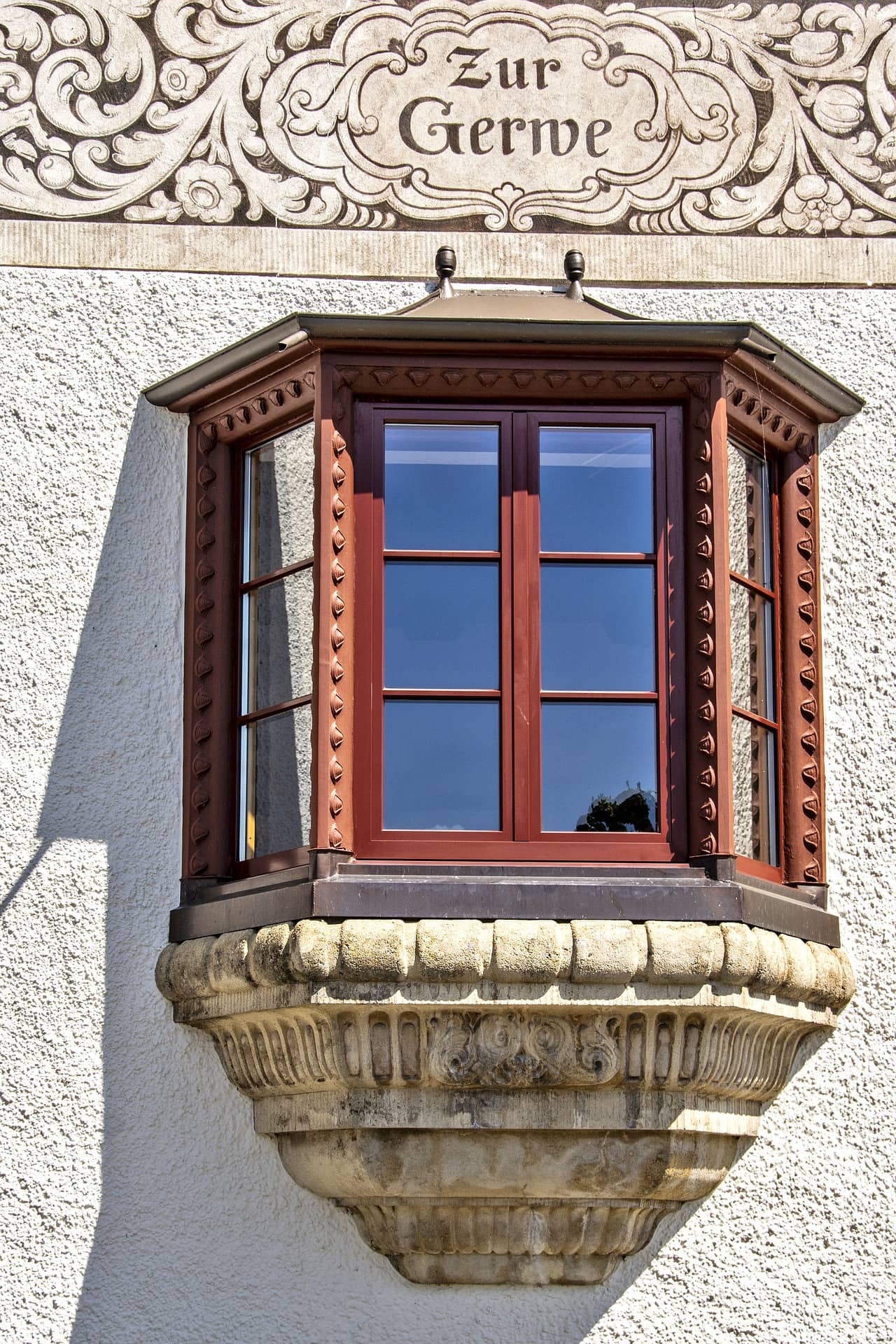 4# Bow Bay Windows
The less common of the four, if you're looking for a more subtle curve – this could be the option for you. Tending to be larger than other styles, you will likely gain more interior space when opting for a bow bay. They create a more seamless transition to the existing walls and have an air of elegance and a real modern feel.
Ideas For Your Modern Home
Although this architectural style date back hundreds of years, it can provide a timeless and beautiful design to any building. A contemporary bay window has so much to offer your home in terms of space, style and practicality and that's why we've compiled this list to kick-start your project. 
Not only does it depend on the design you opt for, but you can make it part of your home with how you choose to dress it and how you decide to use the space it will give you. Many people create reading nooks or extra seating but there are plenty of ways you can personalise your new home improvement. 
Breakfast Dining
If you're looking for a kitchen upgrade, why not think about incorporating some stylish seating that will also maximise space? Not only will you have some gorgeous natural light streaming in, but you will be freeing up the kitchen for socialising and work surfaces should you need them. A box or canted design would work nicely for a downstairs space. Adding a built-in bench with matching cushions and throws gives you a cosy seating area for more guests. 
The modern style of mismatched chairs also comes in handy here. Two designs around the same table have a rustic, chic feel to them. So if this is your style, you could opt for high back chairs opposite your new bench-style seating under the window. The benefit of built-in furniture like this is that it does not protrude into the floor plan as normal chairs can. When it's not in use, the table can be pushed right up against it to tuck away neatly for entertaining.
At Home Office
This is another contemporary bay window idea that would suit people working or studying at home. Either a bespoke or standard desk would fit nicely in any style window you choose. Most people have their home office design as an afterthought when decorating a property, meaning it can often be left to a small, dark room at the top of the house. If this is the case, you'd be letting in so much more light and ventilation by adding a bay window. Not only this, but the square footage will, I'm sure, also be a welcome addition.
An architectural style people often choose is to incorporate bookshelves into the edge design. This could be a practical decision for a home office. As well as this, certain aesthetic changes can help transition from the rest of your home to the outside. Adding indoor plants or natural colour schemes to the framework or shelving within your contemporary bay window can make it feel like a seamless transition from one to the other.
Modern Storage
A lot of new homes can really lack the essential storage you need. People with large families often struggle to find a place for everything inside and can rely on garages to make room. This makes house hunting a far more limited and difficult process. Negative space that can be achieved from bay windows provides a prime opportunity for hidden compartments and Ottoman-style storage. 
As we mentioned before, shelving can also be integrated – giving you even more opportunities for re-homing items that may be put where they shouldn't be. You can incorporate your own aesthetic and architectural preferences while making your space more convenient and useful. You'll see so much benefit from every aspect of your contemporary bay window. 
Floor To Ceiling
Natural light is what a lot of people look for when purchasing or decorating a property. From sky-lights to open-plan designs, architects have done it all. But one thing that you can not deny is how open and welcoming a home feels with floor to ceiling windows. They can be covered at night and in the winter with all different curtains and blind styles. But when it's really needed – your home will look and feel so much bigger and brighter. 
If this style was backing onto your garden or a beautiful view of the outside, it will feel like you never came indoors. People are spending more and more time inside and just having the opportunity of mood-boosting natural light will have huge benefits. Make it your own with colour coordinated shutters or frosted panes for more privacy. Anything is possible and at Greenway Associates, we strive to provide you with results to be proud of.
Perfect Designs Every Time
No matter the age or relative style of your home, work with Greenway Associates to put your own stamp on the property. A contemporary bay window has so many positive elements that we've looked at and will still benefit you over time. From natural light to space and decoration – it's an architectural path you can take to revamp your home. There are applications for any space and purpose, so you can be sure to find something that suits you.
Here at Greenway Associates, we specialise in planning and architectural design for a range of home improvement projects. From home extensions to loft conversions, we cover it all! And, we also provide planning approvals, building control approvals, and interior design services in Surrey, London, and beyond.
No matter your inspiration, we can make it come to life. To find out more about us, what we do, and how we can help your home improvement project be the best it possibly can be, click here to explore our website, or here to get in touch with us today.  
RECENT PROJECTS
At Greenway Associates, we have completed over 2,000 architectural design projects
BINFIELD ROAD
admin
2022-05-30T07:39:03+00:00