Converting Commercial Office Space to Residential Accommodation
With the market for commercial office space depressed for a while now, developers are increasingly looking for opportunities to convert offices into apartments. A relaxation in planning rules in 2016 has made it much easier to obtain planning permission for such projects.
C&P Development Ltd of Redhill, Surrey, approached Greenway Associates about converting a ground floor office space into residential accommodation, with a garden and off street parking, to suit a range of potential buyers, from young families to retirees.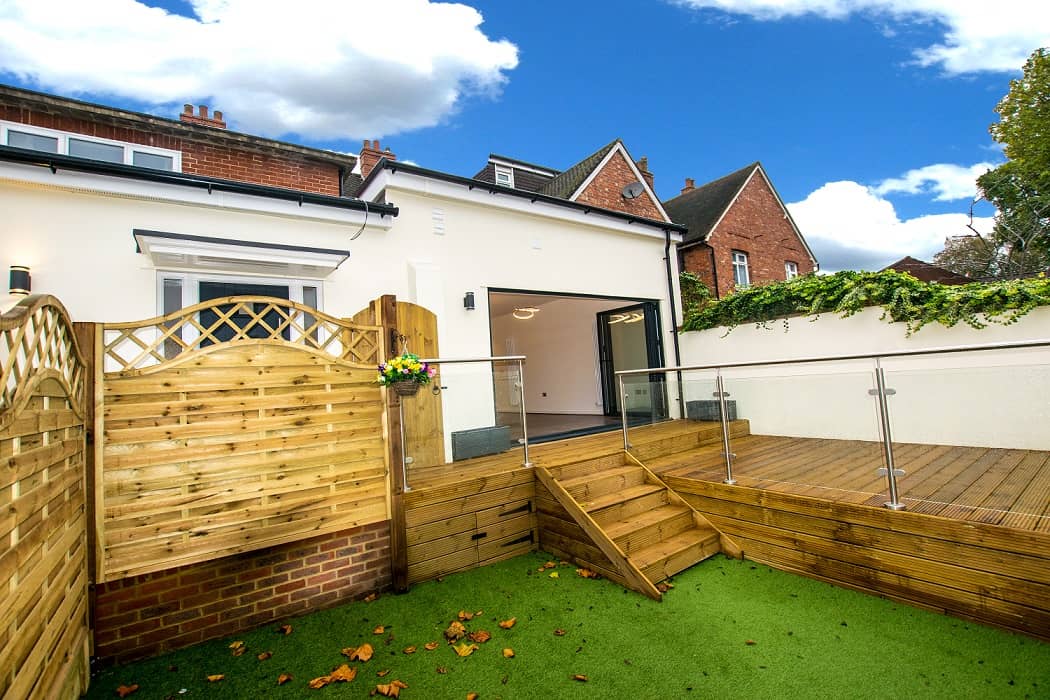 Designed for ease
We came up with a design that transformed a bland, open-plan office space with a tarmac back lot into a comfortable two-bedroom flat with a stylish kitchen/living space opening out onto a smart deck, with steps down to a small artificial lawn. A shared bathroom leads directly off the hall and there's an en suite shower room attached to the master bedroom. South-facing windows in both bedrooms and large bi-fold doors in the main living space let plenty of light into the apartment and the deck catches the sun in the morning.
Every aspect of the property is designed for convenience: the kitchen layout is ergonomically efficient; there is a useful storage cupboard in the hall; the ramp up to the main entrance makes access easy for buggies or wheelchairs; the garden is designed to be very low-maintenance; and we made space for two off-street parking bays.
Thanks to our design and the high standard of finish by C&P Development, the property went on the market priced at £450,000.
Challenges of the job
Turning an empty box into a stylish apartment requires a combination of imagination and tried and tested architectural experience. You have to consider the passage of the sun, the flow from one room to the next and the best place to locate toilets, bathrooms and kitchens so that plumbing and waste all tie in together.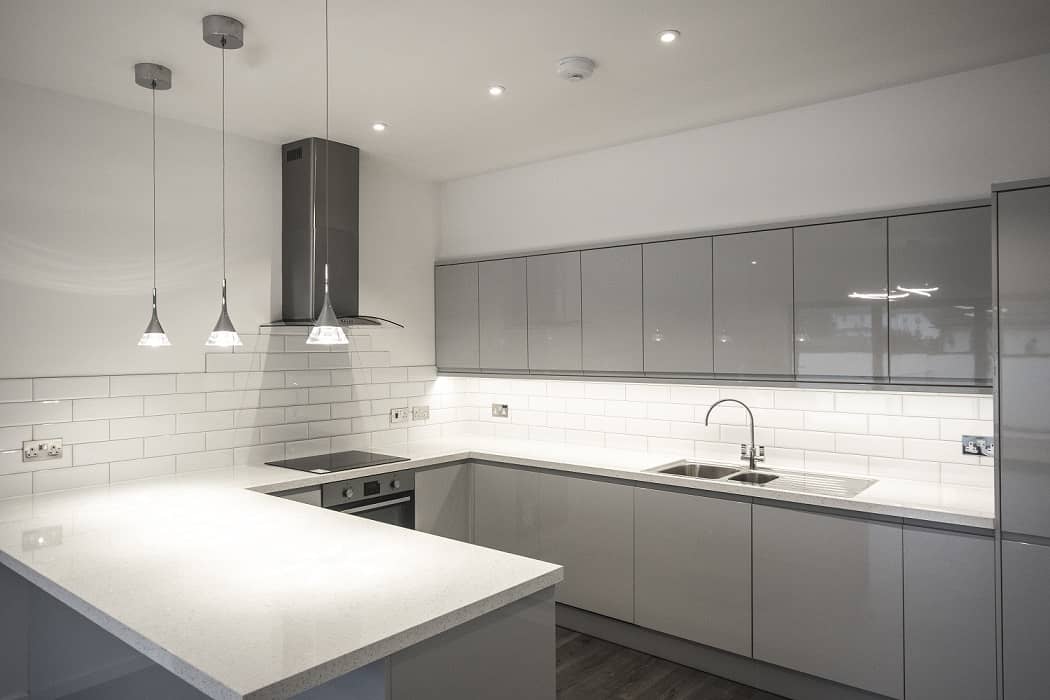 Our client wanted to obtain planning permission quickly, so we needed to get the technical aspects right from the start. The office was directly connected to two residences, one through a party wall on the ground floor and one on the first floor above. This meant that our plans needed to meet certain fire and acoustic standards. We were also required to mitigate against a small local risk of flooding. With specialist fire advice from Southern Building Control Partnership of Dorking and acoustics expertise from Sound Planning of Farnham, our plan included special insulation to the party walls and ceilings, and we addressed the flooding risk by specifying vent covers to fit over the air bricks.
The ramp up to the main entrance was a two-fold solution. With the internal floor level a couple of feet higher than the ground outside, we needed to bridge the gap – and a ramp, rather than steps, meant easy accessibility, as well as a more pleasing aesthetic.
Successful collaboration
Working with C&P Development Ltd made the job very satisfying and efficient as they were not only the client but the contractor too. Their M&E arm, T4 Mechanical, took care of plumbing and electrical installations. Because of their experience as developers, we were able to hand over the job after the Planning and Building Regs stages. In other projects we will be required to provide 3D drawings, specify materials and suppliers, source builders and manage the project on-site.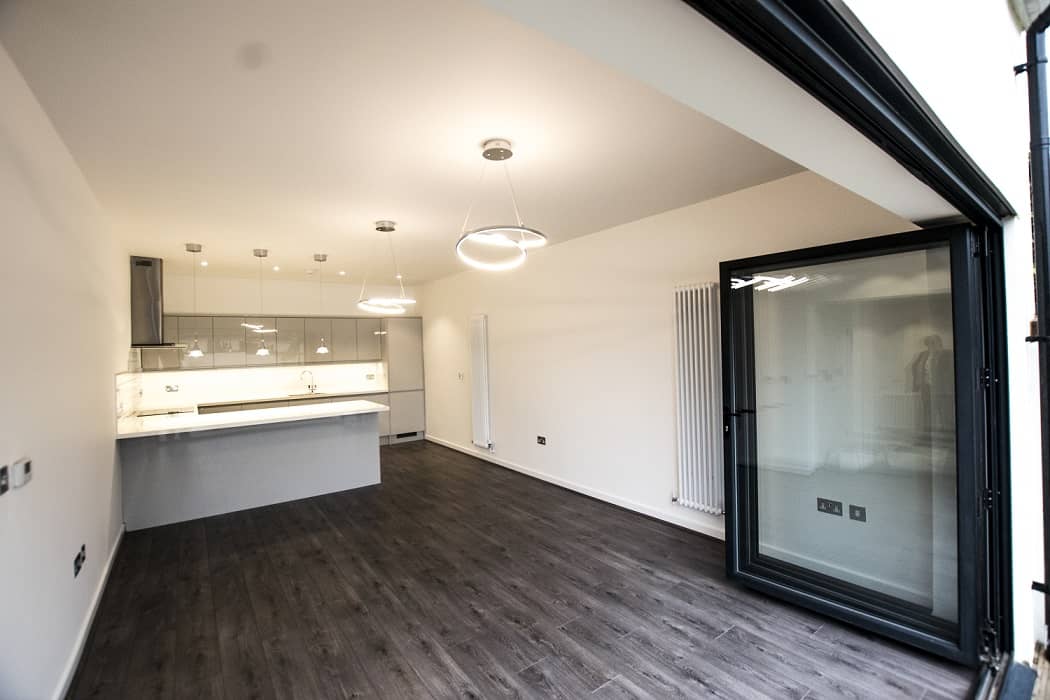 Calling commercial property owners
Projects like this, converting commercial properties into more lucrative residential accommodation, are helping to address the housing shortage and creating good business for commercial property owners in the process. If you own an office space that is not paying its way, come and see us to discuss ways in which to transform your asset into something more attractive, both aesthetically and financially.
Got an asset that's not paying its way? Talk to Greenway Associates on 01737 652737
RECENT PROJECTS
At Greenway Associates, we have completed over 2,000 architectural design projects
BINFIELD ROAD
admin
2022-05-30T07:39:03+00:00