Glorious Gaudí
In a remarkable year for the Catalonian independence movement – and don't worry, we're not about to get political – we thought now would be the perfect time to take a look at the work of the legendary architect Antoni Gaudí.
After all, from the Park Güell (opened to the public in 1926) to the Basílica de la Sagrada Família (on which construction work began in 1882 and continues today!), Gaudí's work dominates the great city of Barcelona.
And why do we love his work so much? One word: passion. Gaudí's love of architecture flows through his projects and it's a passion we share at Greenway Associates. We never forget that when you invest in, say, a home extension or even a whole new house, you're not buying bricks and mortar or architectural plans – what you're really buying is a safe, warm environment in which you and your family can relax, laugh and play.

Gaudí (1852-1926) reminds us all that great architecture, from Barcelona to Surrey, brings joy. His love of the natural world is a particularly notable feature in his projects. He often, included floral or reptilian designs in his metalwork and, on a more philosophical level, spoke of being inspired by the so-called 'equilibrated architecture' of a tree, simply standing balanced without the need for internal bracing or external buttressing.With curved roofs that seem to flow like ocean waves and brightly coloured tiles, Gaudí's buildings almost look and feel alive. The man himself said: "Colour in certain places has the great value of making the outlines and structural planes seem more energetic."

Any visit to Barcelona will allow you to immerse yourself in Gaudí's work. We've already mentioned the Park Güell and the Basílica de la Sagrada Família, but we would also urge you to look at two apartment buildings which show off his equilibrated style – the Casa Batlló (on which Gaudí completed renovation work in 1906) and the Casa Milà (completed in 1912). Again, Gaudí returned to the natural world for inspiration on these projects and, depending on your personal perspective, the sweeping exteriors of both buildings could be said to resemble the soaring mountains or rolling sea surrounding Barcelona.

The Casa Batlló is now open to the public and we'd particularly draw your eye to the roof of the building, which many locals say is shaped like the scaly spine of the dragon killed by St. George. (Sant Jordi is the patron saint of Catalonia.)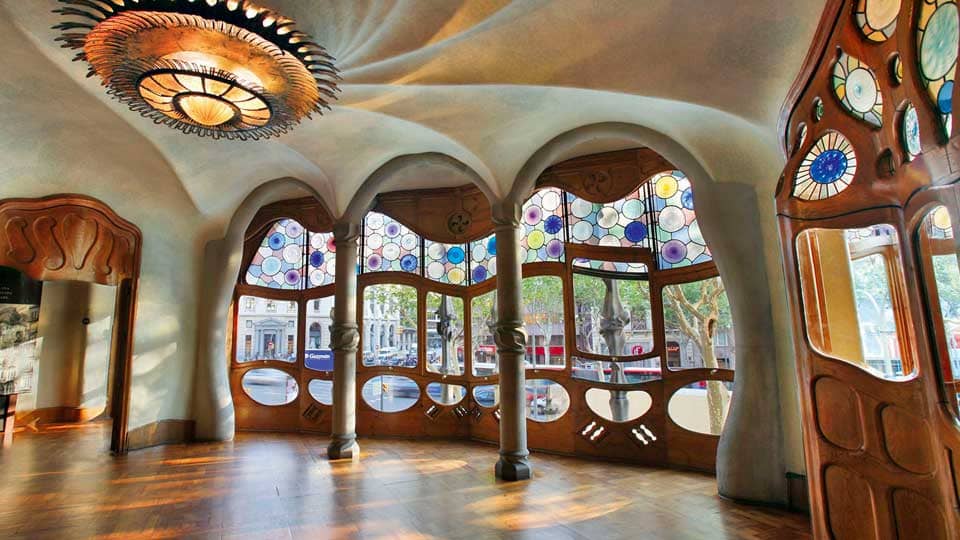 Members of the public can also visit the remarkable Casa Milà, affectionately nicknamed 'La Pedrera' because of the building's resemblance to a stone quarry. This extraordinary, dream-like structure, with a rough and undulating outward appearance, seems to have grown rather than having been built. If you want your home to stand out from your neighbours' houses, ask for a Gaudí-style façade!Gaudí's thoughts on architecture often make fascinating reading, but we're not absolutely sure about this statement: "There are no straight lines or sharp corners in nature. Therefore, buildings must have no straight lines or sharp corners." Is that last point entirely practical? Many modernist architects, who tend to love rectangular shapes, would certainly disagree with Gaudí.

Nonetheless, few architects have designed buildings exuding as much warmth and humanity as Gaudí's masterpieces. At Greenway Associates, we too believe architecture should be so much more than a technical exercise. We'd love to make your dream of a perfect home come true.

Here at Greenway Associates we have over 24 years' experience, and work hard to keep abreast with the best in design technology and planning policy. Whatever you are looking for, please get in touch for more advice, Greenway Associates or call us on 01737 652 737.
RECENT PROJECTS
At Greenway Associates, we have completed over 2,000 architectural design projects
BINFIELD ROAD
admin
2022-05-30T07:39:03+00:00