How To Give Your Home The Wow Factor
Just In Time For Christmas
For a lot of people, decorating for Christmas means going big or not at all. But whether you like to go all out or keep it simple, we've got a list of ideas on how to give your home the wow factor.
Inside and out, there are plenty of ways you can jazz up your property and reflect your style throughout. It doesn't have to be anything significant as even the smallest touches can create an impact in time for Christmas.
Many people like to host the big day at their own house. WIth food galore and more chairs than you know what to do with – this can be the reason for making more of an effort with decorations and improvements. But even if you're not cooking up a storm this year, you might want to appreciate the festivities yourself while you're at home.
Bold Colours
While you may prefer to stick to the traditional red and green – you could change it up with a more bold and modern approach. Instead, opt for deeper tones. Berry colours like plum, deep purples and maroons can work well at making your home pop. However, sticking with the reds and greens – pairing these darker tones with gold or black makes a real statement that you can carry throughout your home.
With this, it won't take a lot to make an impact. You could sprinkle hints of colour here and there to create a simple yet powerful atmosphere. In the dark evenings and the setting of candles and warm fairy lights – you will notice the cosy feeling it brings while adding a touch of elegance and sophistication to your Christmas.
If you would rather go for brighter or more traditional colours then picking a couple of primary ones to pair with a more neutral tone will give you a similar effect. For example, dark greens pair brilliantly with gold or silver to create a really festive pallet. But too many colours may overwhelm your home, so keeping it simple can create a great impact!
Keep It Merry And Bright
Who doesn't love some festive fairy lights? If you're wondering how to give your home the wow factor at Christmas, there's no better way to brighten up the place than with some coloured bulbs. The best thing is – they're really easy to make look nice! The exterior of any property can be lit up with minimal effort – especially when you can use the existing greenery and ornaments.
With so many types of string lights, you could think outside of the box in the ways you use them. They don't have to be strung from guttering or fascias. Instead, you can lay them across bushes or your roof to create a blanket effect. If you're going for the snowy look – using white bulbs will really add to the wow factor amongst greenery and other colours. This also works really well to cover larger areas. Sometimes fairy lights can look sparse – but layering them will cover more ground and create a bigger impact.
Additionally, you could add a retro spin with some vintage string lights. They are timeless and make a charming addition to your garden or interior. They may not be the most traditional option, but that's what makes them so versatile. With an air of simplicity, you will be able to keep them up all year if you fancy! Warmer Edison bulbs pair nicely with any colour scheme you choose and will turn your home into a cosy and welcoming environment during the cold season.
Here are some other popular types of light you could incorporate:
Rope lights – These work nicely to create a pathway or lay over window sills and mantle pieces. You can get them in different colours to match your theme.
LED colour changers – You can buy strips to attach behind televisions or along skirting. These are also ones you could leave up after Christmas.
Snowflake LEDs – Create a winter wonderland with white lights and novelty shaped bulbs. Inside or out, they finish off the festive feel.
Fairy lights in mason jars – A more modern approach that could be used to jazz up table settings or place around the house to carry the atmosphere throughout.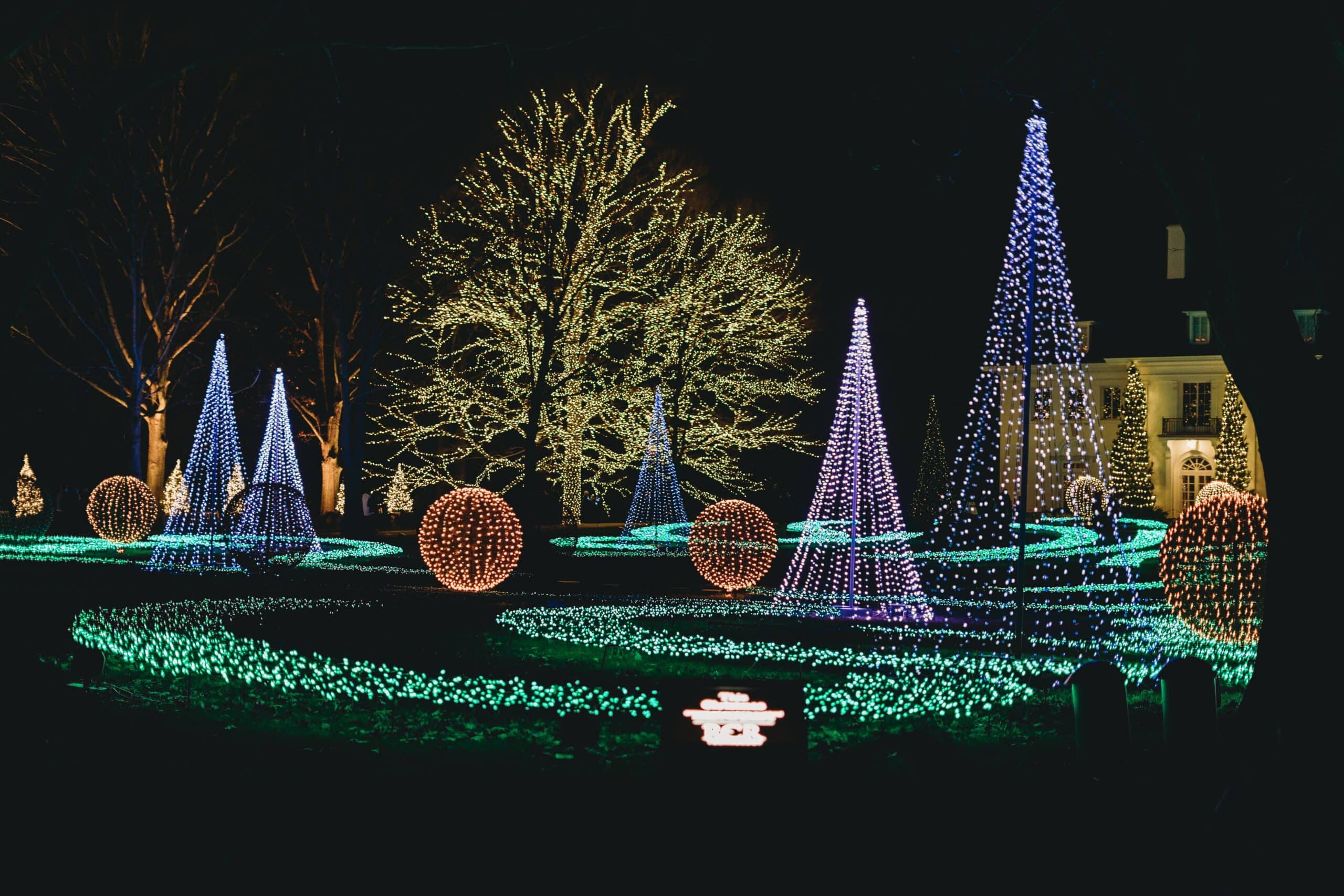 Display Your Cards
Some people get inundated with Christmas cards each year and we don't always know what to do with them. They might get pride of place on the mantelpiece for a few days, but they never really make much of an impact. Instead, we can make the effort to display them in some creative ways and add that extra touch you are after. So, if you're wondering how to give your home the wow factor with your family cards – we may have the answer.
Turn them into a garland ahttps://www.vanilla-bean.co.uk/nd new decoration of their own. You can do this cheaply with some string or ribbon and clothes pegs. It's an easy touch that incorporates them nicely into your theme and doesn't leave them looking out of place.
Another way to make cards more of a talking piece is to attach them to a corkboard or even blue tack them to your wall in a collage-style pattern. The messages inside will be personal to you so hiding them away shouldn't be much of a problem after you've opened them.
If you're feeling creative, overlap designs or create mood boards with cards of a similar colour scheme or design. This can be a great way to keep your festive feel cohesive throughout your house.
Hang them from the ceiling
If you're looking for a more quirky and decorative idea, take the idea of layering and attach each card to a different length piece of ribbon. When you hang them from light fixtures, bannisters or the ceiling they will create a festive walkway and centrepiece in any room.
Let It Snow
Most of us would agree that the ideal Christmas consists of a winter wonderland and plenty of snow. So if you really want to step up your game this year, why not bring the snow to you! Let's start with the outside (because that's where it usually ends up…)
These days you can turn your whole garden into a snowy wonderland for not a lot of money. The first thing you can do is add some more white lights. Instead of opting for the coloured ones – white or blue bulbs will help create the illusion of snow and reflect the cold weather. Spread them out amongst the garden and it will give you the perfect entrance to a festive home.
Also, investing in some spray snow is a quick and fun way to bring the outside in. Paired with your fairy lights, you could rope the kids in and create some Christmas scenes on your front windows. Or the 'just add water' snow could be a good option for decorating a porch or covered outside space. (Although beware this can get a little messy!)
When it comes to bringing the snow indoors, think about replacing your tree skirt with a white blanket or sheet of white fabric. Once you add the presents – it will create the effect of being sat on a clean blanket of snow! Similarly, you can buy fake snowballs or use cotton wool to continue the theme or create a full scene beneath your tree. You could even use it as a way to decorate the table and incorporate white furnishings to complete the look.
How To Give Your Home The Wow Factor With Greenway Associates
Christmas is fast approaching and many people want to make an impact with their home decor. It doesn't have to cost a fortune and there are plenty of ways to add something new this year.
Inside and out – choosing a colour scheme is a great place to start. If you can match your theme throughout, it will create the biggest impression and be a spectacle to admire. Going for bold colours will help your house stand out from the rest.
Similarly, utilise as much of the natural elements you have outside as possible. Warm lights and evergreen plants pair well together for a really rustic and welcoming atmosphere. While the whites and blues can be used to turn your cosy area into a winter wonderland. Whatever you want to achieve with your decorations, continuing that theme from outside to in will definitely catch people's eye and it will become an experience for any visitors.
If you're looking for more permanent ideas or some design advice, we're here to help. Here at Greenway Associates, we can guide you through every step of the process from improvement and building design to suggesting how to incorporate some year-round elements into your festive approach.
If you want more, we have experts for large and small projects. From planning approvals, construction drawings, interior design, and overseeing the project, we are here to help. To find out more about how we can help support you and your dream project, find out more about us by visiting our website or get in touch today to discuss!
RECENT PROJECTS
At Greenway Associates, we have completed over 2,000 architectural design projects
BINFIELD ROAD
admin
2022-05-30T07:39:03+00:00