Keeping fit in the garden
Case study: Flexible garden building for office and gym
We've worked with Whitley Builders of Redhill on a number of projects and James Whitley knows he can rely on Greenway Associates. So when he decided to build an office with gym in his back garden, he asked us to help out with the design and compliance.
Flexibility is key
We all know it's important to keep agile, but flexibility is important when it comes to garden buildings too. The more you can get out of it, the better value it will be. And the bigger wow! factor it will have when you come to sell.
Whether you go for an office-cum-gym, as James did, or a pool house-cum-entertaining room, office-cum-games room etc, why limit your building to one use when it could have two or more. When the working day ends, transition into play mode with a pool or table tennis table, dartboard, a few bean bags and a TV on the wall.
Obtaining permission
Obtaining the necessary permissions for any type of construction is essential. I have heard of more than one case where an owner went ahead without planning consent or building regs and was ordered to demolish the building.  That's tens of thousands of pounds down the drain. Not fun.
With this project, obtaining permission was easy. Buildings like this are classified as 'outbuildings' and they come under Permitted Development'. The rules for an outbuilding are simple: it cannot provide standalone accommodation – no bedrooms, no bathrooms, no toilets; if built within 1m of the boundary, it cannot be a timber construction; its footprint must be less than 30sq.m; and its height cannot exceed 4m.
Breech any of these criteria and your project moves up a level to Planning Permission, which is considerably more complicated.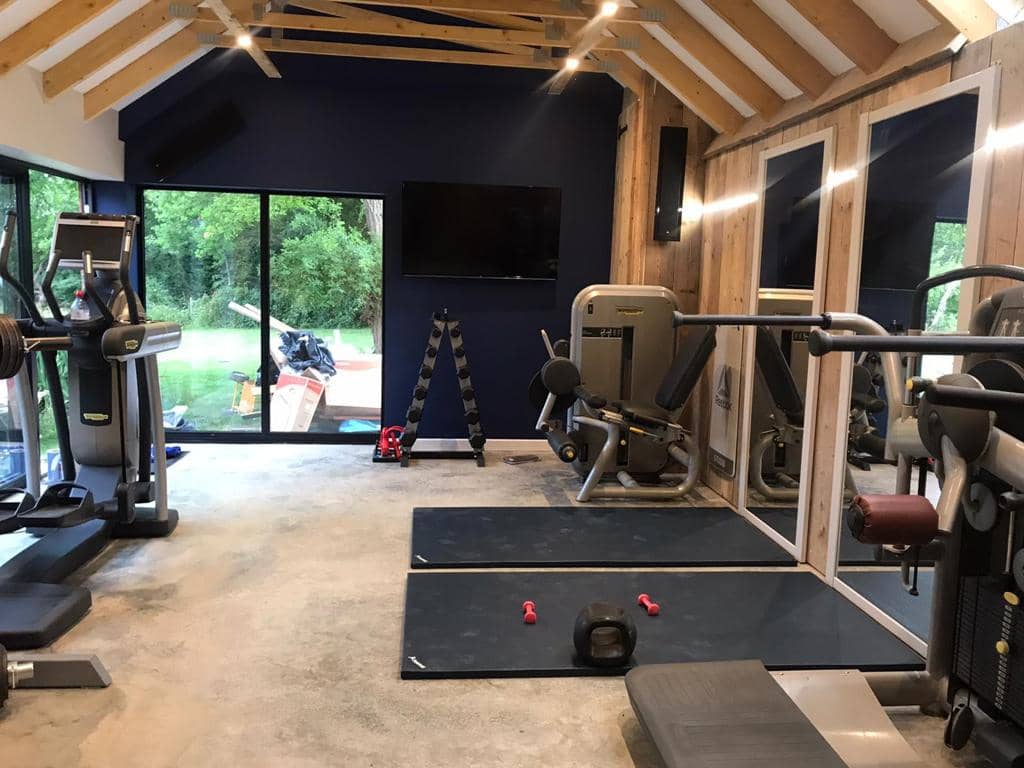 Keeping it simple
In order to keep the height under the 4m limit, we designed the building with a crown roof – pitched to a certain height and then flat across the top. The main structure was brick, to comply with the boundary fire regulations, and we adhered to thermal performance regs with thick insulation in the roof and walls, thermally 'broken' aluminium bi-fold doors and Velux windows bringing in light.
The project took around 12 weeks to complete, which is standard for a job of this nature. James has fitted out his new gym and office with all the equipment he needs, full length mirrors, sound system and TV, and the whole ensemble makes a compelling addition to his home.
Want to fit more fitness into your life?
Call Greenway Associates today on 01737 652737
RECENT PROJECTS
At Greenway Associates, we have completed over 2,000 architectural design projects
BINFIELD ROAD
admin
2022-05-30T07:39:03+00:00