Kitchen extension in Surrey
Case study: Making better use of a conservatory space
A lot of homeowners with older conservatories are rethinking this use of space. The problem is that they can become very hot in the summer and very cold in the winter, meaning there are only a couple of short periods during the year when you can enjoy the extra light and space that they offer.
Modern conservatories have much better thermal qualities but the removal of an old, impractical conservatory is an opportunity to completely rethink your interior layout. That was the case with this project. Mr Anderson, the owner, wanted to replace his old conservatory with a solid brick structure. He also wanted a bigger kitchen.
One of the big advantages of using an architectural designer like Greenway Associates is our knowledge of local planning conditions. At the initial, no obligation site visit, I listened to Mr Anderson's wishes and ideas and was able to leave him thoroughly informed about his options with regard to planning permission.
I also advised Mr Anderson about his party wall obligations, which apply when building close to a boundary, and the need to speak to the owners of the private road running alongside his property to seek permission for the building contractor to access the property via this road.
Following the initial consultation, we produced plans for a brick extension with a flat roof, housing a kitchen and downstairs lavatory. The plans were accepted and Mr Anderson was able to engage his contractor straight away.
Thoughtful use of space
A 2013 amendment to planning regulations permits an extension to be built out 6m from the external rear wall of the house. This amendment is due to expire on 30th May 2019 (but it may well be extended again). Either way, we were able to take advantage of this amendment to build a structure with a bigger footprint than the original conservatory.
Inside, we specified a squared-off arch to be cut around the original conservatory door, opening out the access to the new kitchen. We positioned the lavatory on the left, just past this arch, so it could be accessed without having to walk through the kitchen – a nicety. Utilities such as the fridge were placed along the opposite wall and the main kitchen area opened out in an L-shape to the left beyond the lavatory. A breakfast counter was added in this space.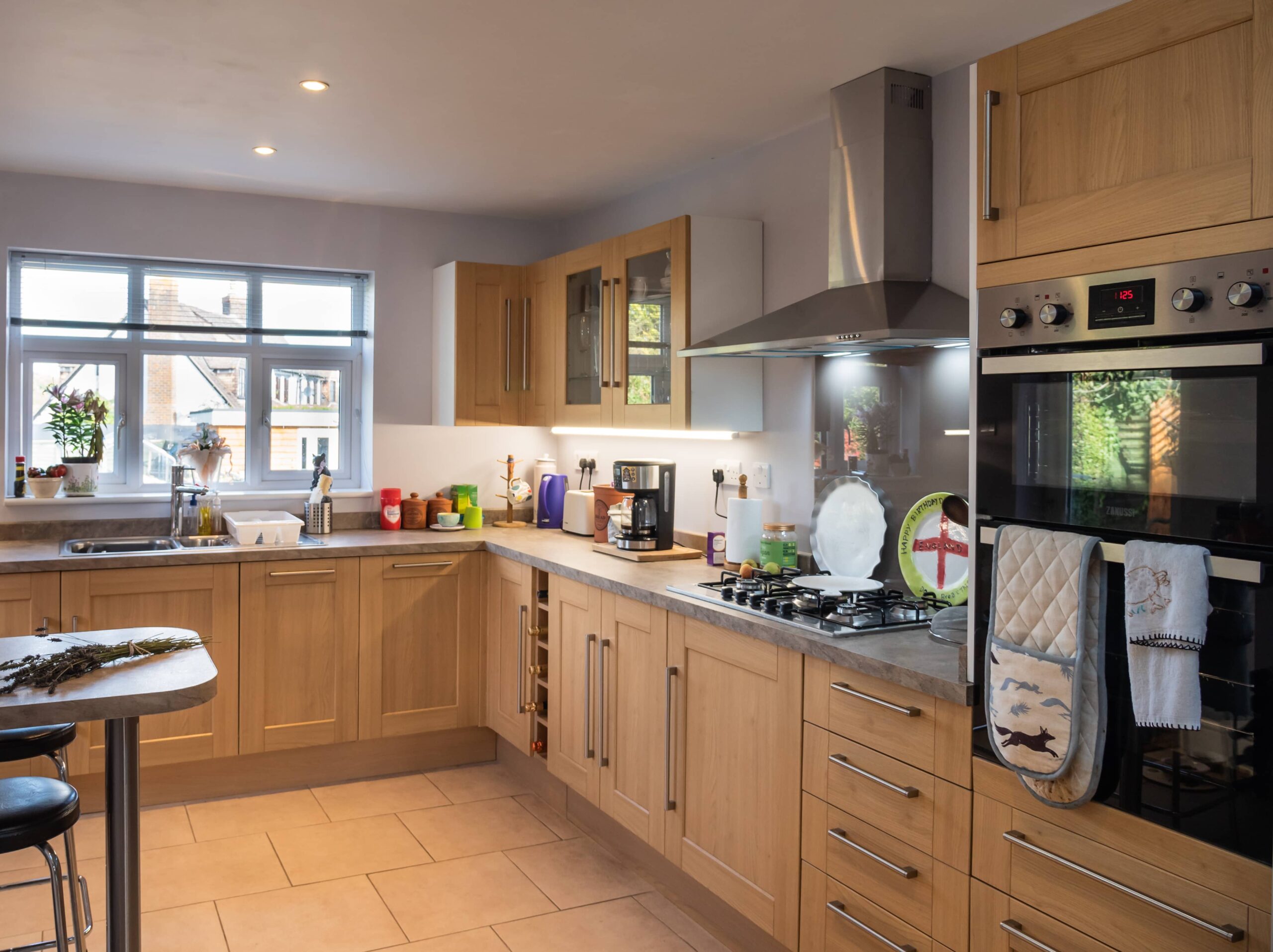 Heating was provided by a large, vertical radiator mounted on the wall beside the lavatory door and natural daylight floods in through plentiful windows and a skylight over the entrance to the kitchen.
The finished extension provides a much more comfortable all-year-round living space than the conservatory it replaced. It grants the Andersons a more enjoyable living experience, with space to move around and cook, or just to sit and chat over a cup of coffee, while planning their next project.
RECENT PROJECTS
At Greenway Associates, we have completed over 2,000 architectural design projects
BINFIELD ROAD
admin
2022-05-30T07:39:03+00:00