How Can
Modern Houses In Surrey
Inspire New Build Properties?
There are many aspects of modern houses in Surrey that are adapting to the needs of a more contemporary way of living. These aspects are also helping to inspire many new build properties.
Furthermore, a brand new home or extension allows for great creativity. It is like starting with a blank canvas. Let's explore some of the ways new build properties in Surrey are being inspired for 2022! 
Sustainability is a Key Factor
The ongoing environmental crisis has placed a great responsibility on homeowners to ensure that their houses are as sustainable as possible for the environment. This is affecting new builds as well as it was recently announced that new homes and buildings in England will have to produce significantly less C02 under new rules put in place by the government. This was decided due to a push for the country to move towards net-zero emissions. 
Furthermore, under new regulations, CO2 emissions for new built homes must be around 30% lower than modern standards and emissions from other new buildings, including offices and shops, must be reduced to 27%. 
As a result, many new build homes are installing low carbon technologies such as solar panels and heat pumps. They are using materials in a more energy-efficient way to keep in the heat. This will cut emissions and will also help lower energy bills. 
Furthermore, all residential buildings, including homes, student accommodation and care homes are being designed to reduce overheating. Furthermore, improvements in ventilation are also being introduced to support the health and safety of residents of new build homes. 
Remote Working Spaces 
The current pandemic has forced all of us to improvise and adapt to many changes in our day to day life. Over the last few years, and especially through lockdown restrictions, home working has become increasingly necessary. However, even after lockdown restrictions had ended many were starting to see the key benefits of working remotely. Remote working has allowed people to save costs on commuting and many have even reported even greater productivity, with less to distract them and everything set up the way they want personally. 
New build homes are increasingly accommodating to this need. Many modern houses in Surrey have extra room space that can be converted into a personalised office space. 
The need for extra room space is not only relevant for work matters either. People are increasingly desiring extra spaces, whether it be for hobbies such as art or even practising a musical instrument.
Making the Most of Wall Space 
Another way new builds are adapting is by being more space-efficient. Storage is becoming increasingly more important during the planning stages of building projects. There are plenty of built-in options that architects and builders are providing. 
Recessed shelving is a neat and attractive use of space that works well with integrated lighting. These are becoming popular in bathrooms as they can be fitted easily on any non-load bearing walls. 
Luxury Bathrooms 
Bathrooms were one of the most commonly renovated rooms in the UK in 2021. Many around the UK, looked to add a touch of luxury to their home. This can be seen due to an increased amount of searches online for a "hotel bathroom".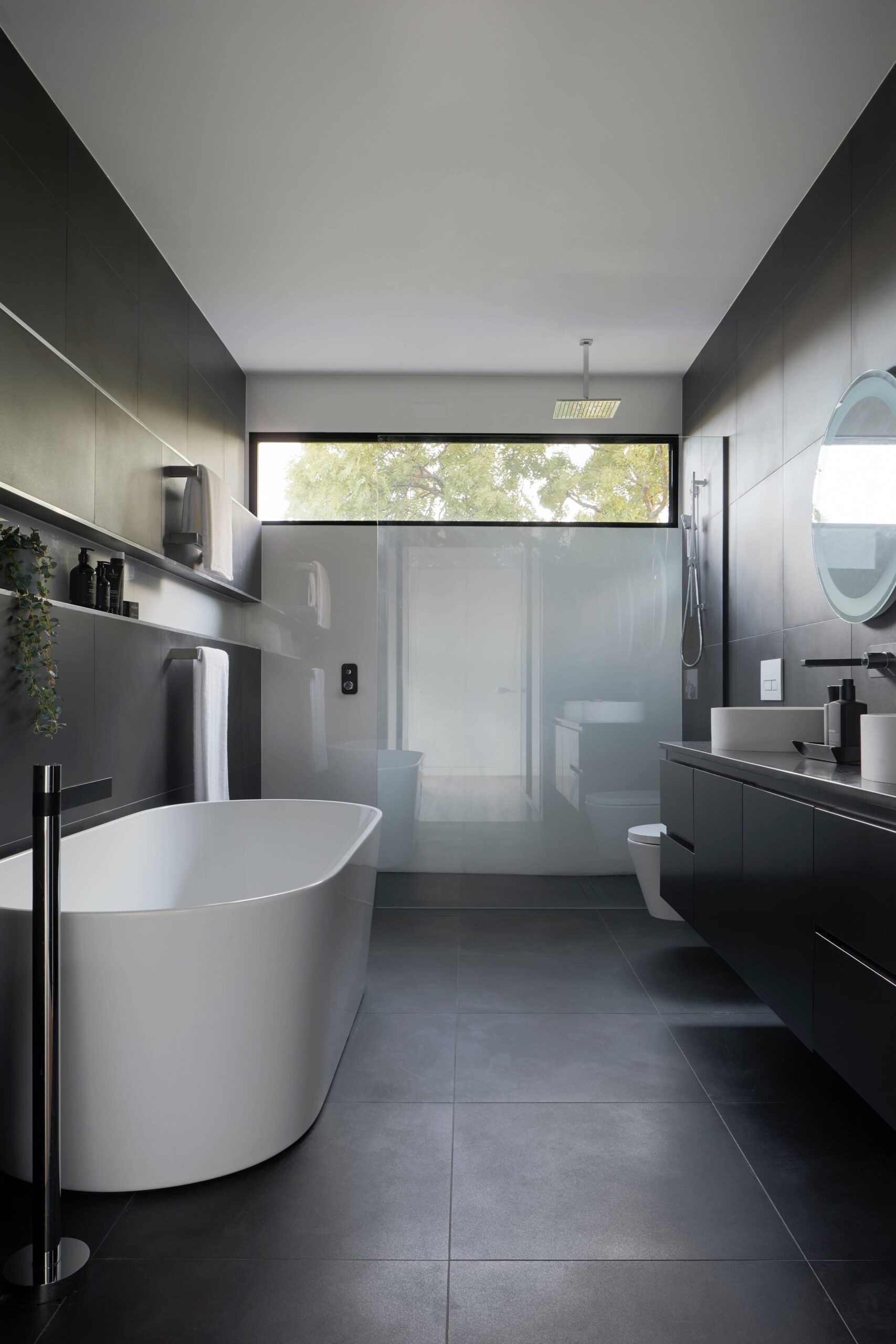 The current pandemic has prompted many of us to seek further relaxation and a hotel-worthy look is one way to achieve this. 
Many bathrooms in modern homes are taking a step away from a more classic and functional space. Instead, people are opting for a more luxury space with a slight resemblance to a spa. Design materials for bathrooms are also changing with more tactile materials such as wood and natural stone becoming more prominent in bathroom spaces. 
To further ensure that a cold stone floor doesn't ruin the spa type bathroom we have previously mentioned, underfloor heating may be an ideal choice. Heated floors are becoming more popular as they are relatively inexpensive and easy to install during renovations. This idea can also include electric heating panels under wall tiles to add warmth to areas of the bathroom that need it most. Not only will these kinds of panels add a sense of luxury to any new build but will also remove the need for heated towel rails which often take up a lot of space. 
Ceilings for New Build Homes
One thing that can be seen in recent years with new builds and modern houses in Surrey is an increased focus on creating stunning ceilings. For example, people are opting for dropped ceilings where a panel hangs below the original area. This makes for a refreshing change from the usual plain ceiling options in new build homes. Other choices people are opting for include stepped ceilings that feature creative and decorative plasterwork. Additionally, ornate ceilings have been proven to be just as good a great fit in modern homes as in traditional homes. 
Multifunctionality and Further Bedroom Comfort
As we have previously mentioned, home working has become increasingly more prominent in our daily lives. Factors such as this have caused bedrooms to become increasingly multifunctional with areas to work, exercise and for relaxation purposes too! 
It is predicted that this year will see interiors including more comforting and neutral tones. Textured wall coverings or panelling will be used more often to add further luxury to bedrooms. 
Furthermore, when it comes to bedding, layered natural textures like cotton or linen in soft neutral tones will become increasingly more popular.
An Increased Focus On Outdoor Spaces
The value of garden spaces became very apparent during the pandemic. They served as prime spots for entertainment. Especially during the height of the pandemic and lockdown restrictions, outdoor spaces were seen as dedicated relaxation areas. 
An increased interest in garden design has been seen this year as homeowners turn their attention to outdoor areas. It is expected that indoor-style tables, furniture and rugs will become more prominent as design choices in 2022. 
It is expected that people will see more outdoor kitchen and dining areas as ways to design new build homes. 
Also as a way to give new build home gardens a head start, many are investing in mature planting and shrubbery. The benefit here is that these will give a foundation of coverage early on. 
However, it is worth talking to a professional landscaper as they will be able to advise on which plants will be the most appropriate for your garden's location and soil. They will also be able to help inform you of which plant varieties will play to the strengths of your home's architecture. 
Additionally, many new build homes are being inspired to factor in wiring for lighting as well as hot tubs, ponds and water features to outdoor spaces. These can be planned during early stages and can add a lot of value to your home if you are willing to invest. 
Kitchen Worktops
Another way modern houses in Surrey are inspiring new build homes is with kitchen worktops. When it comes to the kitchen, it is expected that statement worktops will become increasingly more popular this year. 
Furthermore, thicker worktops with bold colours and patterns will take centre stage in many new build designs.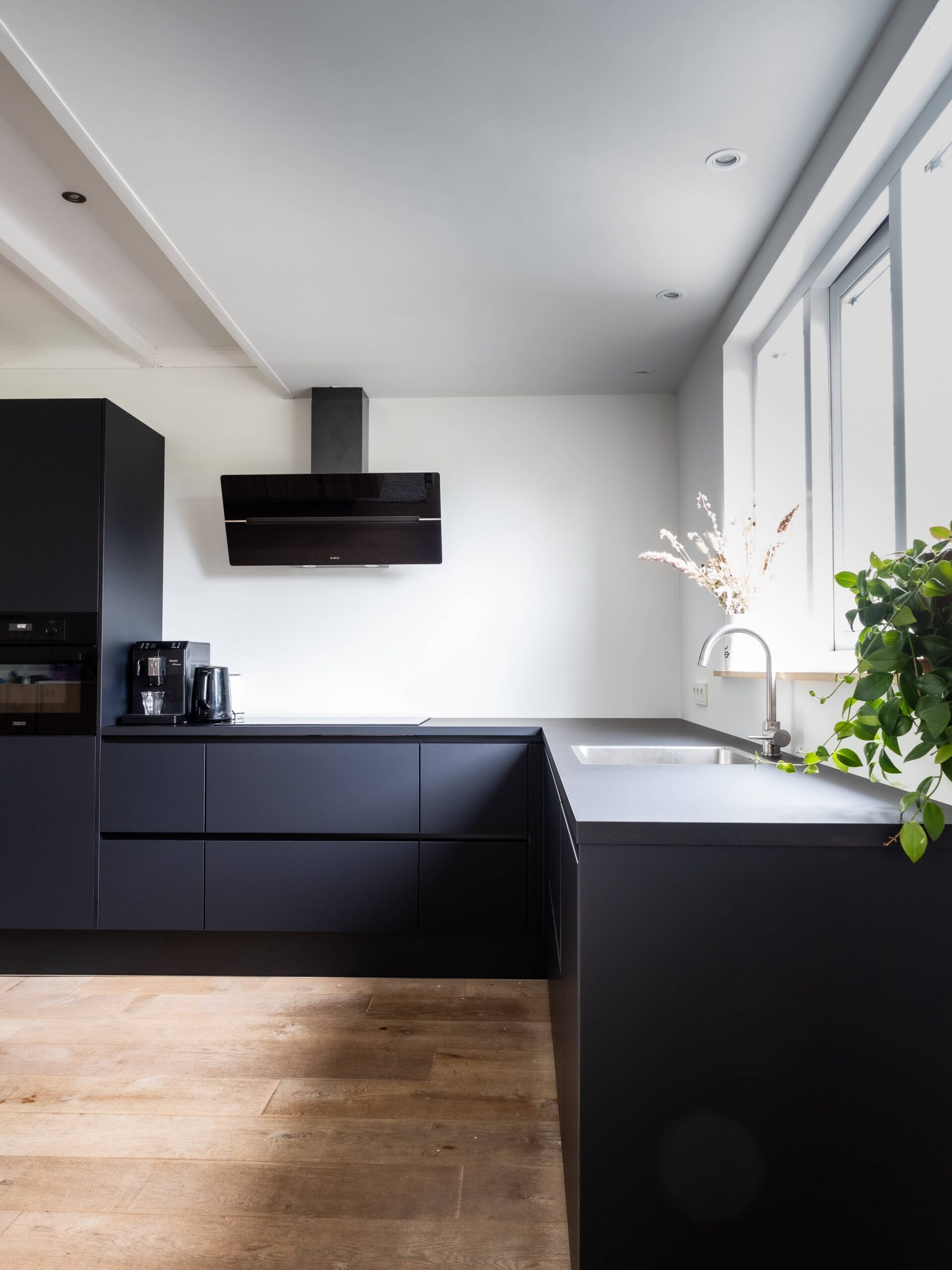 In addition, flowing waterfall designs where the worktop wraps over the edge of the island to the floor will also become favoured throughout 2022. 
A Home for the Future! 
Home automation technology has made massive advancements in the last few years and this is a trend that will only get bigger as time goes on. Recent technology allows you to connect electrical devices in your home to a network that can be controlled from a central computer or tablet. 
For example, audio equipment and smart tv's can be linked to these networks for easy control over the home. 
Summary
Many modern houses in Surrey have adapted and changed in recent years, especially since the start of the Covid-19 pandemic. This has also given inspiration to many new build homes. For instance, many new builds are incorporating extra room spaces for home offices and home gyms. This has become increasingly important as previous lockdown restrictions have made home working a new normal. Furthermore, a continued push towards a more sustainable future in modern homes has promoted new builds to be more energy efficient. 
Furthermore, new build homes are also receiving a lot of new inspiration for interior designs. Luxury, hotel-style, bathrooms are becoming increasingly more popular, especially with the addition of heated flooring which is also on the rise. 
Modern homes are also starting to make great use of storage options to declutter the home. Recessed shelving is likely to become a staple in many modern new builds and storage has become a key talking point in the planning stages of building projects. 
More About Greenway Associates
Here at Greenway Associates, we can guide you through every step of the process of home improvement and building design, suggesting how to incorporate some elements inspired by iconic architecture and many different styles. From planning approvals, construction drawings, interior design, and overseeing the project, we are here to help. To find out more about how we can help support you and your dream project, find out more about us by visiting our website or get in touch today to discuss!
RECENT PROJECTS
At Greenway Associates, we have completed over 2,000 architectural design projects
BINFIELD ROAD
admin
2022-02-03T11:37:46+00:00