Mistakes To Avoid When
Hiring An Architect To Build A House
For many, their home is a sanctuary. It is a place that caters to all of their needs and is designed (whether that be interior or exterior) to their standards. When you are a homeowner, you have the luxury of bringing elements of yourself to that safe space. From a lick of paint and a new carpet to buying the land and designing a property from the ground up – you can turn it into something of your dreams.
However, when you do make the big decision to start from the ground up – the most important part of the process is finding the right people to help make it happen. Without the right support and expertise, your project won't be as smooth or successful as you deserve. That is why it is so important to understand the mistakes to avoid when hiring an architect to build a house. Don't leave it to chance, do your research.
Not Being Honest About Budget
It is crucial that you are upfront with what you are looking for and how much you can afford. This will allow them to advise you on designs and investments that will get you the best value for money.
Similarly, they may be able to let you know if some things you'd like are not going to work with others. While you may think withholding your budget will get you cheaper deals – you could actually end up with unrealistic goals.
On the other hand, hiring an architect to build a house means you are relying on them for the ideas that will complete your vision. If they discover late in the process that you had additional funds – you could have had a design closer to or better than the one you had originally agreed.
Ensuring you stay on budget greatly relies on your openness from the start. Ensure you keep them in the loop for the best possible outcome.
Not Considering Specialist Skills
As is the case in many industries – architects and designers often specialise in certain areas. Some may be better equipped for more commercial buildings that wouldn't suit your residential project needs.
However, an architectural designer like Greenway Associates may be better suited to help you design or extend your home. Considerations like this will significantly affect the outcome of your project and the experience you have along the way.
You are outsourcing this work so that you have expert knowledge and advice. Choosing a company that specialises will ensure you have the experience necessary to make the right decisions.
You may also receive aesthetics and other design components that suit your needs more closely. They will be able to adapt and use their knowledge to develop the project efficiently as it progresses.
Making Decisions Without Updating Or Consulting
Some decisions you make when hiring an architect to build a house may not directly concern them. However, it is crucial that you keep your whole team in the loop so that they have a clear picture of how the build is progressing.
By keeping that line of communication open with all parties, your home will have the best chance of it being completed quickly and exceeding your expectations.
Furthermore, anything you decide will likely have implications for others involved. Things may take more time or money than expected. As a result, other areas of the project may end up being postponed or altered.
For this to be carried forward smoothly, everyone needs to be aware of why it has happened to come to a solution. If decisions are made without prior knowledge, you could end up over budget.
Not Asking For Referrals
This goes for hiring in any profession. It is one thing to take their word for it, but to get the most honest and comprehensive view of their capabilities, you should be reading client reviews and seeking recommendations from others.
When people have first hand experience, you have the opportunity to see real results and hear about their entire experience working with the company. It will give you the best opportunity to find professionals you relate to and that share the same style and vision.
On the other hand, some clients may be biased with their referrals if they are good friends or family. In this case, looking online for the best reviews could be a good step – or looking at detailed case studies.
When you rely on the company themselves to tell you why they're the best fit – they are going to sell the benefits. Outside advice will give you both sides of the story and allow you to properly consider all options before making a decision.
Not Trusting Your Architectural Designer
It goes without saying that when hiring an architect to build a house, you want them to understand and stick to your preferences as closely as possible. A professional company will work with you to do so and take the time to see why you've made the initial decisions you have.
However, after that initial consultation, there may be elements of your project that do not align. As a result, new ideas and solutions will be put on the table. It is crucial at this point that you take each one into consideration and discuss the reasoning with your team.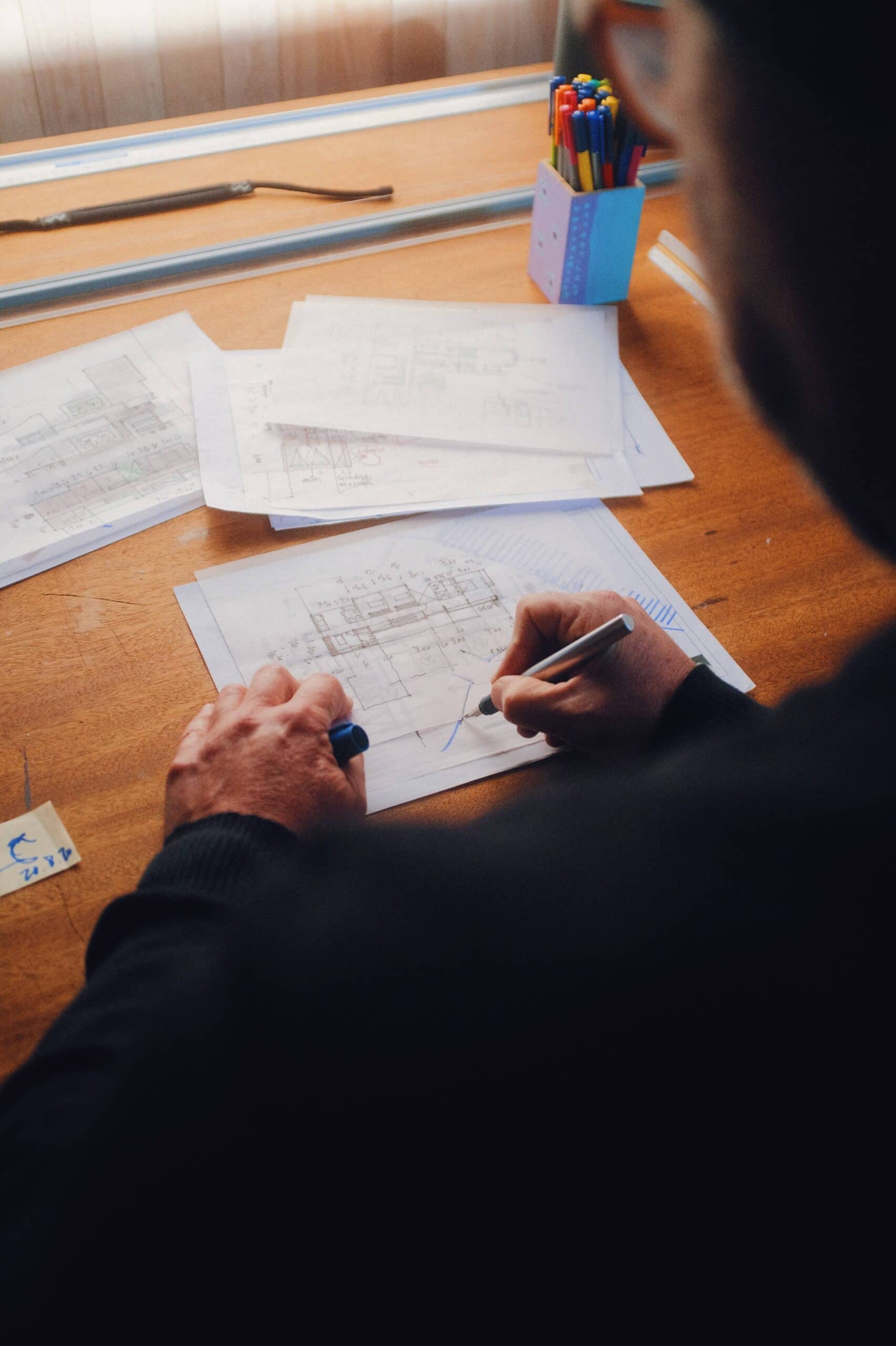 Their experience will mean they have the ability to adapt quickly and see where improvements can be made. Especially in terms of budget or sustainability, they will have a better idea of where you stand.
If you dismiss suggestions made by your architect, you may be missing out on results that will improve the aesthetics or functionality of your home. Putting your trust in them will ensure the most high-quality outcome and long term satisfaction.
Choosing Someone Who Doesn't Challenge You
The aim of outsourcing on a design and construction project should be to create the best possible home for you. While you may have hundreds of ideas and a vision of exactly what you want – the job of an architect is to offer unique insight that will better and sharpen your result.
If you find someone who rushes through each stage and doesn't offer any insight or alternatives, it may be time to rethink your approach. They may leave you with something as close to your original thought as you can get, but it may not be the most reliable or functional design.
You want to hear from experienced professionals that can direct you and create the best space for your family. Without debates and challenges, you could be missing out on a whole world of architecture that you didn't know was out there.
People like this may even forget about the sustainability or functionality of the design altogether in place of the aesthetics. While this is an important part of the process, every element combined is what gets you the desired result.
Not Researching Their Full Services
When hiring an architect to build a house, the design and construction is not a one-step process. Proper research into what the company offers could save you money and time if they have a holistic service and extensive team.
Instead of using multiple businesses, architectural designers could help you carry out an entire rebuild in one go. Our team at Greenway Associates have worked on conversions, outbuildings, interior design and much more.
This may mean that as well as the main structure of the building, you could remodel other sections of the land to include further architectural designs. This may not be something you had considered – but an experienced designer could point you in a direction that will enhance your overall result.
Also, certain companies may have the skills to act as the main contact point between industries. Instead of taking time out of your day to ensure everyone is on the same page and working collaboratively, you get that stress mitigated and handled by an expert who can offer solutions then and there.
Not Choosing Greenway Associates When Hiring An Architect To Build A House
Overall, the most important thing is that you can find someone you are excited to work with for a long period of time. The process can be lengthy and it is vital you can keep clear and fair communication for the duration.
Similarly, sharing a vision and style preference will really help bring the project together in a way that executes your brief to the highest standard. This is why prior research is so important and looking at their previous work.
Our team has carried out a real variety of projects and are always looking for inspiration in old and modern architecture. Because of this, we take pride in our ability to adapt to different styles and inject exciting ideas into any property. Our wide range of services means you can come to us and expect the highest level of professionalism and be confident that we will leave you comfortable in the home of your dreams.
If you want to start the process, get a quote or learn more, we have experts who can help you. From planning approvals, construction drawings, interior design, and overseeing the project, we are here to provide the best. To find out more about how we can help support you and your dream project, find out more about us by visiting our website or get in touch today to discuss!
RECENT PROJECTS
At Greenway Associates, we have completed over 2,000 architectural design projects
BINFIELD ROAD
admin
2022-05-30T07:39:03+00:00