Thinking about a rear kitchen extension? Here's what you need to know
When it comes to improving your home, there are so many different things that can be done! From building a cosy home office at the bottom of the garden, to adding a whole new floor with a loft conversion, there are projects to suit all needs and budgets. But, one of the most popular options that we see here at Greenway Associates is the rear kitchen extension. This is a great way to get more space for a growing family, but tends to be less disruptive than something such as a loft conversion. It's a great versatile option for many families who know that they want to extend their home, but aren't sure about exactly what to do. In this blog post, we will go through some of the benefits and drawbacks of this type of project, as well as some of the key points that you need to consider before you take the plunge and do it!
Benefits
There's a reason why a rear kitchen extension is such a popular option! There are plenty of benefits to this sort of project. So, let's take a closer look at some of them:
Extending your kitchen adds value
Firstly, and perhaps most importantly, extending your kitchen undoubtedly adds value to your property. So, if you think that you may want to sell, either in the near future or further down the line, and are looking into the best ways to add value to your property, this is certainly something to consider. Often, one of the top selling points for a house is the kitchen. So, if you have a large, spacious, and modern kitchen that a potential buyer wouldn't need to modify, you are more likely to get a great price when it does come to selling. 
It's a practical option for all sorts of situations
Here at Greenway Associates, we have seen families choose a rear kitchen extension for so many reasons! From a growing family who needs more space, to retired couples looking for an oasis of calm in their homes, extending your kitchen can be a solution for all of this and more. Extending your kitchen, over other areas of the home, is a practical option, too! Often, the kitchen is the central hub of the home, so having more space always comes in handy. So, if you are pining after more space or an improved home, but don't want to move, this could be just what you're looking for. 
A rear kitchen extension can be a less invasive (and cheaper!) option
If you have the inclination, some stunning home improvements can be made with the addition of a loft conversion, or by completely remodelling your home. However, these options are expensive and can have a big impact on your day-to-day life. For example, a loft conversion often involves living without a proper roof for a period of time, and a large extension or remodel can mean you have to move out completely while work is going on! So, if you are looking for a cheaper, quicker solution to your need for more space, a kitchen extension can tick all of these boxes.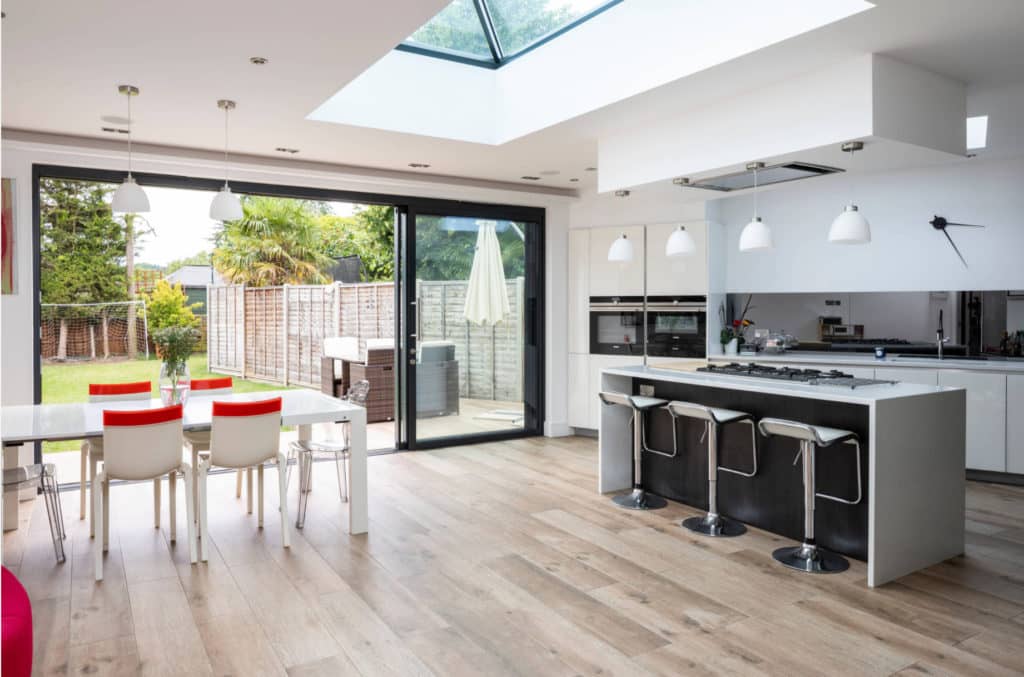 Drawbacks
Despite the numerous benefits and advantages to this sort of extension, there are a few key drawbacks that you should be aware of, such as:
It's not suitable for every home 
As you can tell by the name, a 'rear kitchen extension' is not suitable for every home. If your kitchen is at the front of the home for example, facing out onto the street, you probably do not have much scope to extend it, unless you decided to move it to the back of the home. If this is the case for you, you may want to consider other options such as knocking through walls to create an open-plan living space, or a two-storey extension to add more space both upstairs and downstairs, without necessarily having to include the kitchen.
A rear kitchen extension means less garden space
While having a larger kitchen space is fantastic, with a rear extension, you do have to pay a price in the form of your outdoor space. Extending the back of your home means that you eat into the outdoor space you have available. So, if you don't have a large garden to start with, this may not be something you want to part with! It's all about weighing up your options and deciding what is more important and practical for you and your family. 
What you need to consider before you start
Before you begin planning your project, there are a few key things you need to think about to help guide the process, such as:
What sort of layout are you looking for?
Every house and family is unique. As a result, there may be limitations to what you can do with an extension, or you may have different preferences about what makes a great layout. So, before you begin the planning process properly, think about your needs and wants. What sort of layout are you after? Perhaps you prefer things to be open plan, as has been the go-to style for some time now. Or, maybe you like each room to be separate and have a designated function. You may also have this decision made for you based on the existing layout of your home and what is possible! 
Also, you need to consider the sort of roof you would like on your extension. A flat roof? Sloping? In keeping with the rest of the property? Do you want skylights, or maybe a glass roof, to let light in? It's good to have a solid understanding of what you want your rear kitchen extension to look like before you fully begin the project.
Don't forget the cost implications!
Another important consideration in the planning stages is the cost. While you may choose a kitchen extension because it is the cheaper option, it can still quickly become expensive, depending on what you want your extension to look like. So, it's a good idea to get a range of quotes before you begin so that you know what to expect and what you can comfortably afford.
Planning permissions are a key step
Next, it's vital to have a good understanding of the different planning permissions in your area and what you need to have in place before you begin any work. The needed planning permissions and approvals varies between different areas of the country. So, check your local authority's website so you are armed with the knowledge you need beforehand, and there aren't any nasty surprises along the way!
What contractors do you want to use?
One of the most important considerations for any home improvement project is the contractors that you will be working with. Of course, you want to make the right choice to ensure that your project is finished to the highest possible standards. But, often the best contractors have a waiting list! So, once you've made your choice, make sure you get in touch with them as soon as possible to secure your spot before somebody else does. 
There are a few things to consider when choosing the right contractors to work with. These include checking out their reviews and ensuring that you're getting like-for-like quotes. You can discover more top tips for finding the right contractors in this blog post: The 6 Best Ways To Choose The Right People To Work With On Your Home Improvement Project.
The finishing touches are always important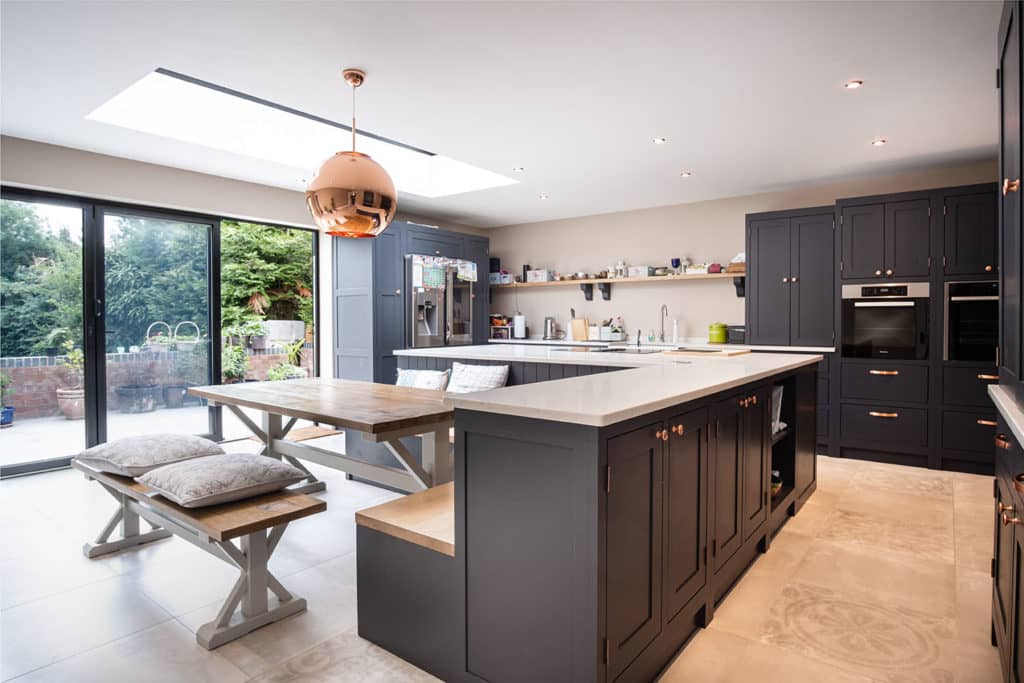 Finally, it's never too early to start thinking about the finishing touches for your rear kitchen extension! From choosing new kitchen cabinets and worktops, to the soft furnishings that really make a house a home, planning ahead ensures that you stay true to your dream vision and reduces stress levels when it is time to decorate. You may also want to consider taking on the services of an interior designer or painter and decorator to make life easier and ensure that you get an end result that is truly amazing!
Final thoughts on rear kitchen extensions
If you have the space to make this sort of addition to your home, you won't regret it! A rear kitchen extension is a great way to make the ground floor of your home more practical, without compromising on style. If you want even more space in your home, why not make it a two-storey extension and get an additional room upstairs, too? No matter what you decide, a kitchen extension is sure to give you more space and the kitchen of your dreams, so what's not to love?
Here at Greenway Associates, we have worked with many different clients to help them make their dream kitchen extension a reality. We would love for you to be next! We can help you with everything from construction drawings, to planning permissions, all the way down to interior design. To find out more about us and what we can do for you, please click here to visit our website, or get in touch today by clicking here. 
RECENT PROJECTS
At Greenway Associates, we have completed over 2,000 architectural design projects
BINFIELD ROAD
admin
2022-05-30T07:39:03+00:00