7 Of The Most Famous Modernist Buildings From Around The World
Modernist is a style of architecture that has approached innovation head-on. It takes a look at the way we currently live and reimagines it in the most optimistic and technologically advanced ways. This new age of design didn't just take on modernist buildings and architecture but interiors, appliances and art too. Developed in the early 20th century, it came as a  response to the rapidly changing social constructs and industrialisation of most of the world. This is why it can often be characterised by the use of technology and materials such as steel, concrete and glass. The architecture displays bold choices and design considerations that were way out of the ordinary for that time.
Notable modernist architects include Frank Lloyd Wright, Le Corbusier and Erich Mendelsohn. Although they all had very individual styles, their focus was on everything new. Things that hadn't been done before and ways to integrate different parts of life were some defining characteristics of this movement. We take a modernist approach today in the fact that we are always looking to improve the functionality of what we do or where we live. We make sure to use everything to our advantage and figure out the most simple and efficient ways to create. It didn't move massively when we saw the change to postmodernism, and we still recognise many of the modernist buildings today.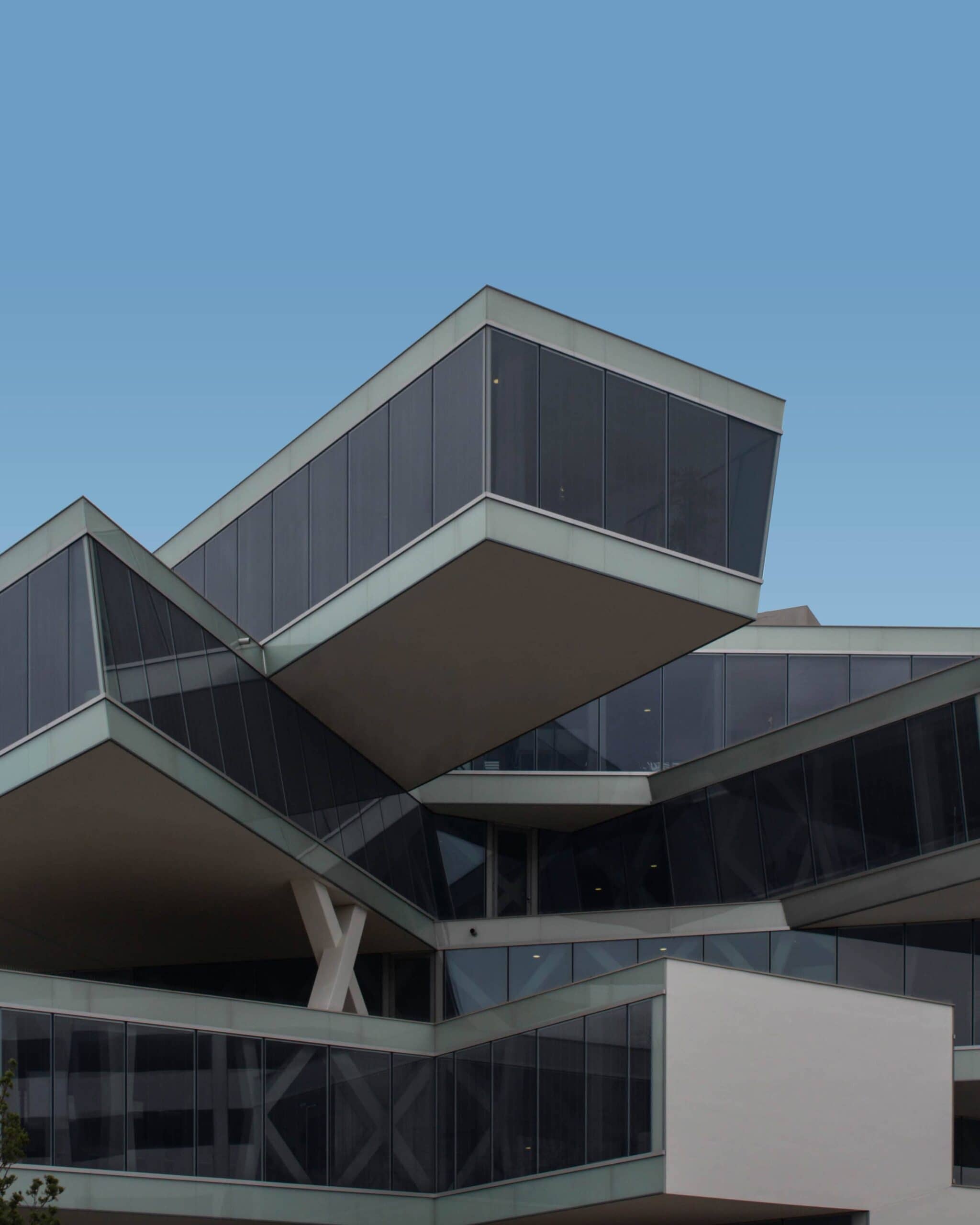 Notre Dame du Haut
Made mostly of concrete and stone, this Roman Catholic Church was designed by Le Corbusier and was actually a rebuild of the original chapel destroyed during World War II. It actually demonstrates his style shift from his earlier architectural pieces. The curved walls and edges of the church allow for more structural support whilst characterising a key feature of the movement. This choice is reflected inside as well as the balconies and the altar itself remains incredibly simple. It is one of the truly functional modernist buildings built for purpose. 
Not only this but in 2016 after an issue with vandalism two years prior, the church was decorated in the architect's own murals. From floor to ceiling, the outer walls were painted in colourful, graffiti-style artwork. The photographer who organised it said it acted as a reminder that modernist work is always designed to adapt to change. A homage to Le Corbusier and a distinct representation of the new style.
Fallingwater House
The Kaufmann family commissioned Frank Lloyd Wright to design a weekend retreat in Pennsylvania. Wright, who was 67 at the time, seemed to be nearing his retirement. However, the daring design of the Fallingwater house proved that he was still as capable as ever and remained full of visions. The property was originally supposed to overlook the waterfall nearby, but Wright went one step further in bringing the family close to nature and their surroundings. 
He designed the modernist building to sit directly above the waterfall so the water could be heard from every room. After many debates and concerns over how it would even be built, the retreat was completed in 1935 where the family enjoyed it for many years. However, in 1963 they donated it to the local conservancy and it later opened its doors as a museum to the general public. The building and its surrounding land have been visited by over five million people since then. 
Guggenheim Museum
The Guggenheim Museum is another iconic piece designed by Frank Lloyd Wright. The vision was to be able to have a place to hold the upcoming non-objective art and for the museum to be reflective of what was inside. It had to be completely unique and unlike any other. This was a key part of the brief as given by the Guggenheim's art advisor. The radical new art being created needed an all-inclusive and atmospheric place to live. 
Wright took this brief and ran with it – creating one of the most recognisable modernist buildings. He set out to create the perfect environment for viewing art, listening to music and being present, surrounded by pure talent. To contrast the intersections and stark lines of Manhattan, he incorporated organic curves that soften the environment. The interior creates a walkway through the exhibits, leading you further and further towards the top of its iconic dome roof.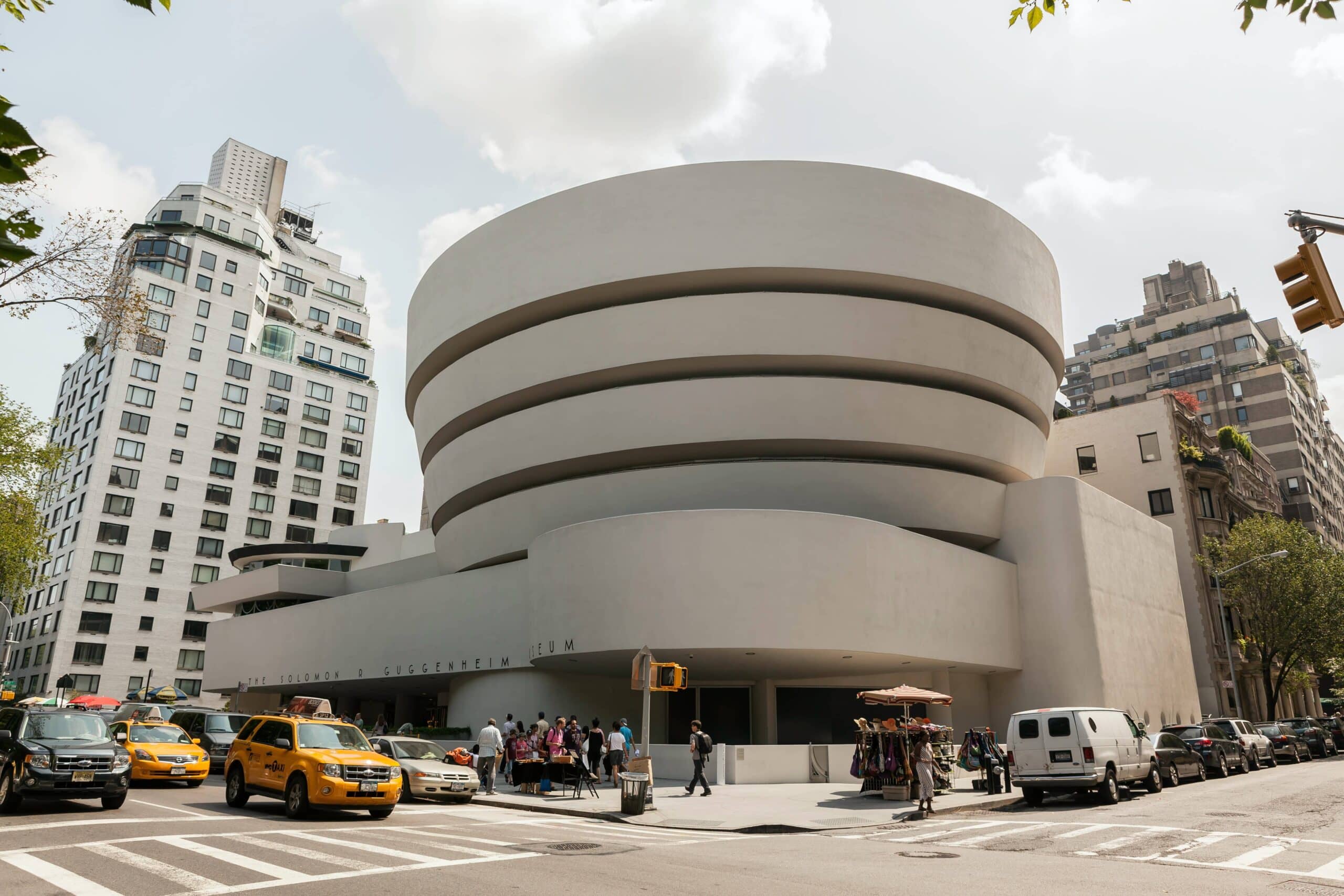 Luce Memorial Chapel
This incredible structure is located on the campus of Tunghai University in Taiwan. It was designed by I.M. Pei and named in honour of Rev. Henry W. Luce, an American missionary in China. It was originally planned to be constructed with wood but that was quickly overturned due to the humid conditions. The exterior creates a tent-like structure extending to 19.2m heigh that curves inwards for a unique design. The modernist building can seat up to 500 people. 
Possibly taking inspiration from Yale University Art Gallery, the interior makes quite the impression to anyone who enters. Similarly, the yellow, glazed tiles that engulf the exterior make it an eye-catching centrepiece for the campus and is frequented by students and tourists alike. 
Sydney Opera House
Probably one of the most famous names on this list, the Sydney Opera House consists of multiple performance venues and welcomes more than eight million visitors annually. Danish architect Jørn Utzon won a competition to take on the project in 1957 and made good use of early computer technology to calculate architectural flaws and potential problems in the design. This is what brought them to the result of the iconic shell-shaped roof we now know. 
Each of these shells or 'ribs' were assembled in separate components then covered with tiles to complete the look. Despite early controversy, this immense structure has since become the inspiration for many other complex architectural designs. Although it took some years to find the best solution for the structure, it is safe to say the time and effort paid off.
Lotus Temple
Located in New Delhi, India, the temple is made from bright white marble-clad. Its main shape resembles that of a partially open lotus flower. The incredible petal structures, of which there are 27, form the nine sides of the building. This is due to an essential characteristic of this type of house of worship being the nine-sided, circular shape. It is also stated that they must not contain any pictures, statues or images which is why you will find a very bare and plain interior. 
The doors of the temple unveil a 34.4-meter tall main hall that can seat up to 1,300 people and hold up to 2,500 in total. While the Iranian architect Fariborz Sahba was approached to design the temple, a UK firm overtook the structural design and the construction process was overseen by Sahba. It has won numerous architectural awards and certainly deserves a space on this list of modernist buildings. 
Beijing National Stadium
Also known widely as the 'Birds Nest', the stadium was built in 2008 in preparation for Beijing holding the Summer Olympics that year. It was designed by a variety of architects and artists who worked together to produce something that created an impact visually and demonstrated the transition with nature. Chinese culture greatly influenced the stylised result in showing the coexistence of sport and the environment.
As a result, it is clear to see that the stadium was not only produced with sporting events in mind but the architects wanted to introduce a message of well being and environmental impact. Surrounded by other natural areas of the Olympic Green, a lot of thought and purpose went into its creation. It's now intended to be reused at the 2022 winter Olympics and Paralympic Games.
Modernist Buildings Or Something More Traditional?
While we are sure you recognise many of these famous structures, it is certainly not an exhaustive list of the impressive modern architecture spanning the world. As we move through different styles, we can see the influence each movement has on the next. It is from this that today's architects gather information and ideas for your own homes and new properties. Whether they are large commercial buildings or residential developments, you will see aspects of many architectural styles. 
Here at Greenway Associates, we can guide you through every step of the process of home improvement and building design, suggesting how to incorporate some elements inspired by iconic architecture and many different styles. From planning approvals, construction drawings, interior design, and overseeing the project, we are here to help. To find out more about how we can help support you and your dream project, find out more about us by visiting our website or get in touch today to discuss!
RECENT PROJECTS
At Greenway Associates, we have completed over 2,000 architectural design projects
BINFIELD ROAD
admin
2022-05-30T07:39:03+00:00