How can you save energy and reduce your energy bills?
Having already discussed House Extensions, Building Regulation and Planning Approval, the message now is energy saving.  The question of high energy bills and your buildings' thermal efficiency must not go un-answered.  Your house loses heat through the various surfaces of the building, and as such the Building Regulations Approved Document (AD) Part "L" identifies the minimum specification allowed in England, Wales and Scotland.  The new AD Part "L" 2013 was delayed until April 2014 and is 6% more onerous than its 2010 predecessor.  However, to get the best thermal efficient results, one has to go beyond the bare minimum accepted.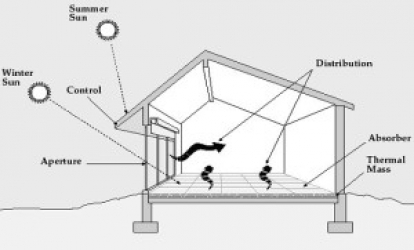 The two images above show how to reduce energy loss in your building.  The first image (with the high summer Sun) shows how by using shades to reduce heat gain in summer, the cooling bill will be reduced.  It also shows that by inviting the low angle sun to heat the glass in winter the heating bill is reduced.  Image number two shows how with the use of super insulation, mechanical ventilation and solar power systems each building can be better controlled to save energy.  Image number three below shows the change towards modern technology and the loss of the chimney.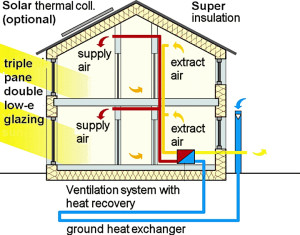 Thermal efficiency in buildings is measured in U-values, and measures how well parts of a surface material transfers' heat.  Therefore the higher the figure the better it transfers heat, and the better it transfers heat out of your building the faster it gets cold in your building.  The object therefore is to choose material components that don't lose heat very well therefore having low U-values.  The unit is Watts per metre square with a temperature difference of 1 Kelvin (W/m2K), written as a decimal where 0.1W/m2K is better performing than 0.2W/m2K.  Please click the link to the latest Building Regulation figures shown here by an insulation manufacturer.
http://www.kingspaninsulation.co.uk/Knowledge-Base/Building-Regulations.aspx
As described earlier, to get the best performance and to keep energy bills low, one has to do more than meet the buildings regulation standards – one has to exceed it.  As the move towards Zero Carbon intensifies, by 2016 the Building Regulation U-value standard for external walls will be 0.1W/m2K.  Please click the link below to see the values of current building material components.  These include Timber Frame, Blockwork, Structural Insulated Panels (SIPS), and many more.
http://www.homebuilding.co.uk/2012/07/31/build-systems-explained/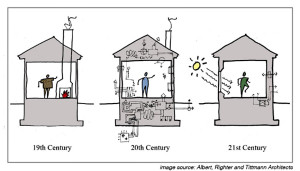 RECENT PROJECTS
At Greenway Associates, we have completed over 2,000 architectural design projects
BINFIELD ROAD
admin
2022-05-30T07:39:03+00:00